Anne Hathaway's "Dark Knight Rises" Catwoman: How does it compare to previous versions?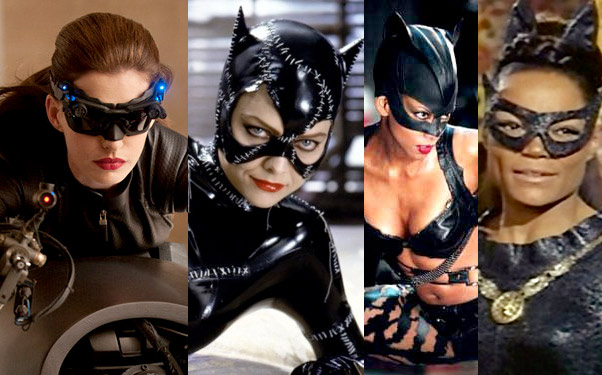 Posted by Rick Marshall on
From the campy 1960s-era version of Catwoman to the version of the character seen in the upcoming "Batman: Arkham City" video game, the on-screen incarnations of Gotham's feline-friendly burglar have changed quite a bit over the years. Today we got our first look at Anne Hathaway as Catwoman in "The Dark Knight Rises," and given the character's long history in the comics world, this first image offers a lot to ponder for Bat-fans.
In order to get some perspective on what Hathaway's take on the character may or may not share with its predecessors, we've put together a list of some of Catwoman's most notable on-screen iterations and compared them to what we've seen so far from "The Dark Knight Rises."
---
Julie Newmar & Eartha Kitt "Batman" (1966)
Both Newmar and Kitt sported the same Catwoman costume on the 1960s live-action "Batman" television series, and it's not surprising that Christopher Nolan appears to be distancing his version of Selina Kyle from one of the character's more campy iterations. While there is a bit of a shine to Hathaway's outfit, it's nowhere near the metallic sparkle of Newmar and Kitt's slinky costume, which was actually constructed by Newmar herself.
---
Michelle Pfeiffer, "Batman Returns" (1992)
When Tim Burton brought Batman back for a sequel, he introduced a new, live-action version of Catwoman, too. Pfeiffer's take on Catwoman was very much in the Burton style: a slightly mad, disturbingly dangerous, and ultra-sexy version of the character. Her costume was composed of skin-tight vinyl that covered most of her body (but left little to the imagination), and only portions of her face were seen under a cat-eared mask. As expected, Hathaway's look is significantly less S&M (and more H&M) than Pfeiffer's take on the character.
---
"Batman: The Animated Series" (1992) – Voiced by Adrienne Barbeau
Catwoman's costume in this fan-favorite series retained the form-fitting, one-piece suit she'd been sporting in the comics and on the big screen ("Batman Returns" was released just a few months before the cartoon premiered). However, instead of shiny vinyl, this animated Catwoman robbed from the rich while wearing a dull gray costume with black boots, gloves, and portions of her mask. She also retained the whip her character has wielded from her early days. Though this look is a little closer to Hathaway's Selina Kyle, it's still a far cry from what we've seen of the "Dark Knight Rises" actress thus far.
---
Halle Berry, "Catwoman" (2004)
What to say about this number? Berry's Razzie-winning turn as Catwoman invoked no small amount of criticism, and her costume was by far the most skin-revealing of all the the on-screen iterations. Once again reverting back to the bondage-queen motif, Berry's look in this film included a bizarre helmet/mask combination and clawed gloves, with the latter being the only truly notable nod to the character's past costumes. While there were probably a lot of people hoping to see Hathaway in a costume resembling Berry's "Catwoman" ensemble, everything we've seen so far – and let's face it, common sense — says not to expect any nods to this low point in the character's history.
---
"The Batman" (2004) – voiced by Gina Gershon
Returning to the one-piece, form-fitting look of "Batman: The Animated Series," this version of Catwoman sports a black, skin-tight costume and mask with massive "ears" and large googles that make her look even more cat-like than previous iterations. She also carries her whip on her lower back, making it appear as if she has a tail. While this version of the character also differs greatly from what we've seen of Hathaway's Catwoman, the "Dark Knight rises" photo released today does show her with a pair of high-tech goggles. That's pretty much where the similarities end, though.
---
"Batman: The Brave and the Bold" (2008)
Created as a nostalgic throwback to Batman's campier days, this animated series featured a Catwoman more in line with the character's Golden Age design. Instead of blacks or grays (or shiny vinyl), the "Brave and the Bold" Catwoman dressed in bright purple, and instead of head-to-toe spandex, she wore a long skirt. One thing she does have in common with Hathaway's Catwoman (and the Newmar/Kitt versions of the character) is that she doesn't hide away her long hair underneath her mask.
---
"Batman: Arkham City" (2011) – voiced by Grey DeLisle
Probably the closest approximation to what we'll see Hathaway wear as Catwoman in "The Dark Knight Rises" is the version of the character seen in early images from the "Batman: Arkham City" video game. A more utilitarian, military design is the key to the game's take on Catwoman, and it was inspired by the grittier tone of her comic counterpart these days. Less sexpot and more cat burglar, this version of Catwoman is still easy on the eyes, but also comes equipped with high-tech gear like we see Hathaway wielding in the most recent "Dark Knight Rises" image. Heck, if you look closely, you can even see that Hathaway has a zipper pull right up by the neckline of her outfit, much like her counterpart in "Arkham City" — though the latter spends most of her time with it unzipped.
---
What do you think of Hathaway's Catwoman costume so far? Which Catwoman was your favorite over the years? Chime in below or on Facebook or Twitter.