First photo of Anne Hathaway as Catwoman in "The Dark Knight Rises"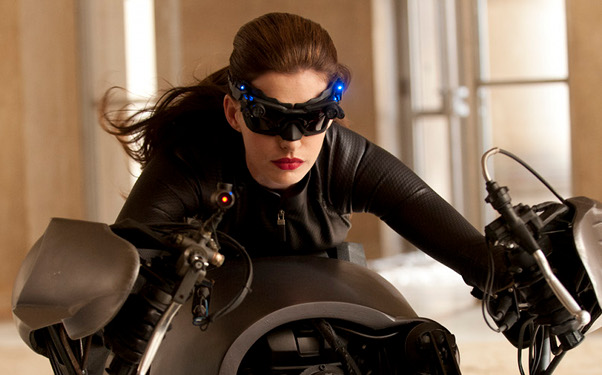 Posted by Rick Marshall on
Ever since Anne Hathaway first joined "The Dark Knight Rises" as Selina "Catwoman" Kyle, fans have been dying to know what sort of look she'll sport as Gotham's feline-friendly thief.
Well, today we got our first look at her, courtesy of a new photo posted on the official "Dark Knight Rises" movie website.
The new photo from Christopher Nolan's third and final Batman film comes hot on the heels of yesterday's first look at Henry Cavill as Superman in Zack Snyder's upcoming "Man of Steel" reboot.
In the image, Hathaway is seen driving Batman's (stolen?) "Batpod" while wearing a set of high-tech goggles. She's also clad in a form-fitting suit with a large zipper at the neck, similar to how she's been depicted in DC Comics the last few years or so.
One thing she isn't wearing, however, is any sort of cat-themed mask or other attire. This, combined with the fact that the image is titled "Selina Kyle" and not "Catwoman" could lend some support to the popular belief that Nolan will shy away from some elements of her comic-book source material.
Earlier this week, we got a good look at another major character from "The Dark Knight Rises," courtesy of some photos and video from the set of the film in Pittsburgh showing Batman brawling with Bane. The images and footage offered fans the first look at how Tom Hardy's version of Bane will look in the movie.
What do you think of the Selina Kyle photo? Chime in below or on Facebook or Twitter.