ADAPT THIS: "The Nobody" by Jeff Lemire, plus a guest contribution from Brad Meltzer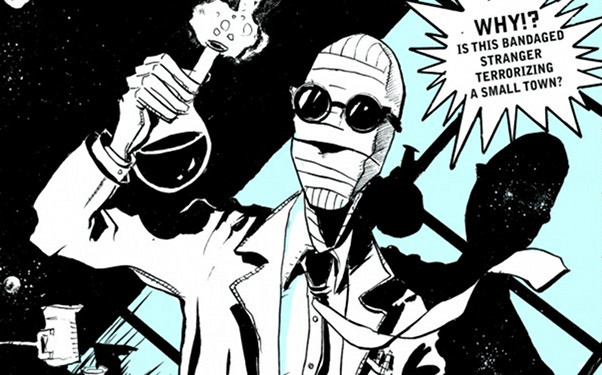 Posted by Rick Marshall on
With Hollywood turning more of its attention to the world of graphic novels for inspiration, I'll cast the spotlight on a new comic book each week that has the potential to pack a theater or keep you glued to your television screens. At the end of each "Adapt This" column, you'll also find some thoughts from the industry's top comic creators about the books they'd like to see make the jump from page to screen.
---
This Week's Book: The Nobody by Jeff Lemire
The Premise: A modern retelling of the H.G. Wells classic The Invisible Man, award-winning comic creator Jeff Lemire's graphic novel The Nobody imagines bandaged stranger John Griffen as a drifter who wanders into a small fishing village one day. After taking up residence at the local inn, the mystery surrounding this new visitor makes the locals suspicious, and eventually leads to a series of encounters that not only reveal Griffen's darkest secrets, but also those of his new neighbors.
The Pitch: We've seen the story of The Invisible Man told in film countless times, but Lemire's take on the classic tale is uniquely different from the rest. In , we get a look at the see-through scientist in the early stages of the madness that would eventually turn him from scientific genius to soulless villain.
Known for his careful, heartfelt exploration of the stories that make small-town life compelling, Lemire applied a similar approach to The Nobody, developing a very real, very flawed world around his bandaged protagonist. While the main narrative follows John Griffen's experiences in the quiet fishing village, his story also serves as the common thread that brings together the lives of several residents, including a young girl who occasionally serves as narrator. Given the wealth of character arcs that develop around the story's titular character, it's the sort of premise that could easily lend itself to a single film or quite possibly an ongoing series, following Griffen from place to place as he wanders the world.
In the character of John Griffen, Lemire has put his own spin on the classic "Invisible Man" that makes him an even more tragic figure than usual — this time, casting him as a lonely soul battling with both the physical dilemma beneath his bandages and his own vanishing sanity. In many ways, John Griffen's story is a lot like that of Marvel Comics' own scientist-turned-monster, Bruce Banner. Like that character, Griffen has a secret monster that he's growing unable to contain, and he's forced to move from place to place in order to keep his secret.
The Closing Argument: In many ways, Lemire's tale feels like a mix of the classic television series "The Incredible Hulk," with Bill Bixby playing the wandering David "Bruce" Banner as he drifts from town to town trying to be left alone, and the 1996 Coen Bros. film "Fargo," a dark tale of murder and mayhem that unfolds around Minnesota and North Dakota. While it lacks the flashy, overt chaos of "The Incredible Hulk" and its raging green behemoth, Griffen's arrival in town results in a similar sort of upheaval, and it's clear that he's accustomed to things turning sour not long after he settles in. And much like "Fargo," the setting of Lemire's story also plays a crucial role in the tone of the tale, with the small, isolated community incestuously amplifying every suspicion, secret, and uncertainty.
While The Nobody would do well as a feature film, it's easy to see its potential as a television series, too — with Griffen traveling from place to place, fighting his own inner demons, running from the past, and finding more trouble in every sleepy new village he visits.
---
This Week's Comic Creator Recommendation: Replay by Ken Grimwood
"The premise is so simple. Man is at his desk. And dies. And wakes up in his freshman dorm room. He gets to replay his life, knowing everything he knows so he makes himself rich. But, when he reaches that same age, he again dies. And when he wakes up, he's a junior in college. The space is shrinking. And money didn't make him happy, so he still has no idea how he's supposed to live his life. It's so easy, and so much makes you think of your own life. When I graduated college, I tried to buy the rights even though I had no money. (And yes, I know Ben Affleck is now making it now. But not my version)."
– Brad Meltzer, the New York Times bestselling author of The Inner Circle, The Tenth Justice, Book of Lies and countless other novels, as well as the Eisner Award-winning writer of the DC Comics series The Justice League and Green Arrow, and the host of "Brad Meltzer's Decoded" on the History Channel.
---
Would "The Nobody" make a good movie? Chime in below or on Facebook or Twitter.