ADAPT THIS: "Superman: Red Son" by Mark Millar, Dave Johnson, and Kilian Plunkett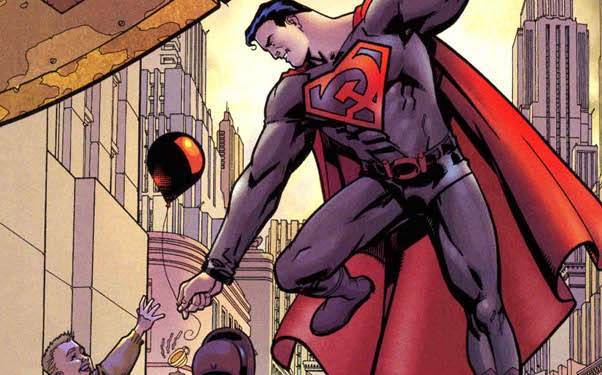 Posted by Rick Marshall on
With Hollywood turning more of its attention to the world of graphic novels for inspiration, I'll cast the spotlight on a new comic book each week that has the potential to pack a theater or keep you glued to your television screens. At the end of each "Adapt This" column, you'll also find some thoughts from the industry's top comic creators about the books they'd like to see make the jump from page to screen.
---
This Week's Book: Superman: Red Son by Mark Millar (w), Dave Johnson (a), and Kilian Plunkett (a)
The Premise: What if, instead of landing in Smallville, Superman landed in the Soviet Union? How would the DC Universe change if the Man of Steel grew up on a collective instead of a farm in Kansas? This tale from DC's popular "Elseworlds" line explores how Batman, Wonder Woman, Lex Luthor, and the rest of Superman's fellow heroes and villains would've changed in a world where the most powerful being on the planet was a champion of Socialism instead of a force for "truth, justice, and the American way."
The Pitch: With DC's entire line of superheroes and villains receiving a reboot this week, it seems appropriate to put the spotlight on some of the publisher's past alternate-universe success stories.
Published in 2003, Superman: Red Son was scripted by Kick-Ass and Wanted writer Mark Millar, and presents a very different — and fascinating — take on the Superman mythos. Not only does Superman's story chart a dramatically different course, but Millar also offers up alternate versions of Batman, Wonder Woman, Green Lantern, Lex Luthor, Brainiac, and more characters whose histories are inextricably tied to that of Jerry Siegel and Joe Shuster's bullet-proof Man of Steel.
However, given the high profile of Superman these days in Zack Snyder's upcoming "Man of Steel" movie, it's unlikely that Red Son would — or should — get the live-action treatment. What the story could benefit from, though, is a feature-length animated film like the recent "All Star Superman," which was also based on a Superman adventure (his final adventure, in fact) falling outside the character's regular continuity.
Widely regarded as one of the best of DC's popular "Elseworlds" tales, Red Son is not only a compelling story with a strong narrative arc and powerful conclusion, but it also serves as a reminder of all the reasons why Superman has become one of the world's most iconic characters — simply by showing how different he could have been.
Like All-Star Superman and Justice League: The New Frontier before it, Superman: Red Son also offers a nice opportunity to experiment with different artistic representations of some of the DC's most popular characters. From the Soviet version of Batman to America's ultra-militarized Green Lantern Corps, Red Son is packed with new twists on old favorites that have become some of the most popular alternate versions of the characters introduced over the years.
The Closing Argument: While it's certainly not viable for live-action adaptation at this point, Superman: Red Son is an easy choice for animated feature treatment. By combining a thought-provoking story that appeals to adults with colorful, fascinating twists on well-known characters, Red Son is one of those rare projects that bridges the gap between generations and illustrates why comics — and the movies based on the them — are still fresh and full of surprises for new and old fans alike.
---
This Week's Comic Creator Recommendation: Bad Machinery by John Allison
"I would love to see Bad Machinery by John Allison adapted into a television series. It's a positively charming British take on children solving mysteries. The humor is fresh, the kids are whip smart, and the plots are kooky and inventive. It gives a hilarious peek at the peculiarities of growing up in modern day England and the fun of solving mysteries like 'Is the stray dog roaming town actually a baby wendigo?'"
– Chris Hastings, author of the award-winning webcomic The Adventures of Dr. McNinja and the recent three-issue Marvel Comics miniseries Fear Itself: Deadpool.
---
Would "Superman: Red Son" make a good animated movie? Would "Bad Machinery" make a good television series? Chime in below or on Facebook or Twitter.