ADAPT THIS: "Four Eyes" by Joe Kelly & Max Fiumara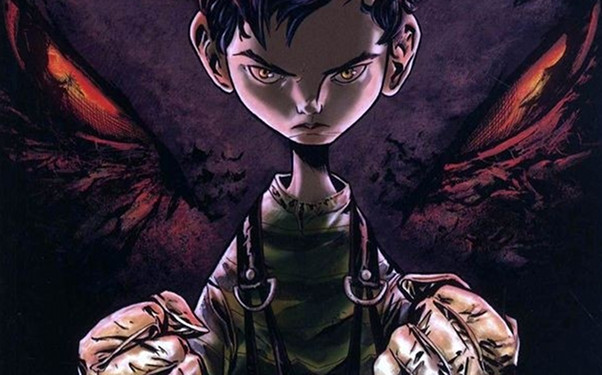 Posted by Rick Marshall on
With Hollywood turning more of its attention to the world of graphic novels for inspiration, I'll cast the spotlight on a new comic book each week that has the potential to pack a theater or keep you glued to your television screens. At the end of each column, you'll also find some thoughts from the industry's top comic creators about the books they'd like to see make the jump from page to screen.
---
This Week's Book: Four Eyes by Joe Kelly (writer) and Mike Fiumara (illustrator), published by Image Comics
The Premise: In New York City during the Great Depression, ten-year-old Enrico will do anything to support his mother — even wrangling dragons for the local crime syndicate's brutal arena. When he adopts a dragon of his own, Enrico could finally have the means to avenge his father's death and turn his family's fortunes around, but can he turn a deformed, abandoned dragon into a killer?
The Pitch: Originally published in late 2008, Four Eyes is the sort of story that feels like it's based in a slightly tweaked version of our own world — or in this case, our own world's history.
The story's main character, Enrico, is a child of the Great Depression, but the economic and cultural troubles of that time present far more danger to him and his family than the winged, fire-breathing creatures that also inhabit this alternate-world version of New York City. And like any good story rooted in reality with a touch of the fantastic, Four Eyes builds its foundation in the experiences we can all relate to before the first dragon rears its snout.
While the comic book series itself remains unfinished (only four issues have been published so far, with more promised this year), there's already enough there to see the book's potential as a big-screen adventure with a boy, his dragon, and their desire for revenge.
One thing Four Eyes isn't, though, is a children's story.
Sure, there's a coming-of-age theme wrapped within Enrico's tale, but there's also — and possibly more importantly — a dramatic period piece. The depths to which Enrico and the rest of the city's inhabitants were willing to sink during the Great Depression play as much of a role in establishing the story's tone as the dragons themselves, and the way Kelly and Fiumara blend the two aspects of this alternate history is what makes Four Eyes so compelling.
Of course, that's not to say there aren't ample amounts of fire-spewing, fang-gnashing dragon brawls, too. From Enrico's first, tragic encounter with a dragon to the dark, violent adventure that introduces him to the four-eyed runt the story is named for, the story is filled with opportunities for a digital effects team to work their magic. And that's not even counting the massive dragon fights that serve as a backdrop for Enrico's story.
Imagine a giant, feathered, serpent-like lizard sinking its teeth into a scaly, winged behemoth belching blue flame as they twist and roar across a theater screen and you'll begin to understand the visual potential of Four Eyes.
The Closing Argument: Even though we only have four issues of Four Eyes to go on, its strong dramatic narrative, well-developed characters, fantastic eye candy, and fantastic premise make it exactly the sort of thing that could hit the sweet spot with mainstream audiences and cinephiles alike.
---
This Week's Comic Creator Recommendation: Pinocchio, Vampire Slayer (SLG)
"Van Jensen and Dusty Higgins put a unique spin on both the vampire genre and Collodi's original fairy tale. Their story of the infamous wooden puppet with an ever-growing nose – providing him with an endless supply of stakes with which to combat the vampires invading his idyllic town – is at once action-packed, witty, and heartfelt."
– Robert Venditti, co-creator of The Surrogates (the inspiration for the 2009 film starring Bruce Willis) and the recently released graphic novel The Homeland Directive from Top Shelf Comix.
---
Does "Four Eyes" sound like it'd make a worthwhile film? Let us know below or on Facebook or Twitter.