ADAPT THIS: "DMZ" by Brian Wood & Riccardo Burchielli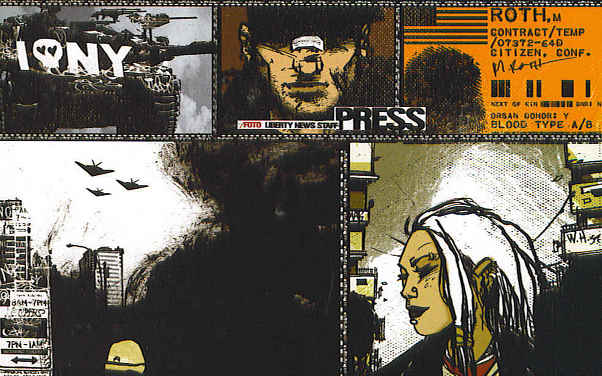 Posted by Rick Marshall on
With Hollywood turning more of its attention to the world of graphic novels for inspiration, I'll cast the spotlight on a new comic book each week that has the potential to pack a theater or keep you glued to your television screens. At the end of each "Adapt This" column, you'll also find some thoughts from the industry's top comic creators about the books they'd like to see make the jump from page to screen.
---
This Week's Book: DMZ by Brian Wood and  Riccardo Burchielli 
The Premise: After a second Civil War turns the island of Manhattan into a demilitarized zone, photojournalist Matthew Roth finds himself alone and abandoned when the news crew he accompanied to the island is killed in a firefight. As one of the few journalists on the ground in the DMZ, he begins reporting on the daily struggles for the 400,000 remaining inhabitants of the island, who are cut off from family, friends, and the rest of the nation. As he gets pulled deeper and deeper into the war between the United States of America and the secessionist "Free States," he's forced to find the balance between reporting the news and making the news.
The Pitch: When Brian Wood recently informed his fans that DMZ had almost been set up at a television network, it didn't come as much of a surprise. What was surprising — and a little disappointing — was that whatever network made a play for the project couldn't make it happen.
For anyone who's read DMZ, the notion of bringing Wood's tale to life on the screen is pretty much a no-brainer. Packed with compelling story arcs, fascinating characters, and a unique forum for addressing hot-button issues in the real world, DMZ practically begs to make the leap from comic book page to gritty, live-action series.
For those who aren't familiar with the series, DMZ is a blend of "Escape From New York"-style survival story, post-disaster documentary, and gonzo-journalism narrative, all rolled into one ongoing saga that stretches from one end of Manhattan to the other. And like many good stories set in Manhattan, the ravaged, barely recognizable urban landscape is as much a character in the tale as Matty Roth and his neighbors — something the story shares with many of the best New York City-based films and television.
Given the current obsession with post-apocalyptic settings — "The Walking Dead" and "Falling Skies" television series, to name a few — a series like DMZ would seem to be a natural fit for today's television audiences. And in this case, the absence of zombies, aliens, or other supernatural elements not only sets it apart from the competition, but could also make it more appealing to viewers who shy away from genre projects. (It might allow for a lower budget, too.)
However, even without all of these other elements, the story of DMZ makes a strong case for itself as exactly the sort of thing networks should be looking to for the next generation of programming. Whether it's photojournalist Matty Roth, former med student Zee Hernandez, or charismatic local leader Parco Delgado, every character in DMZ has a compelling story, and it becomes clear early on that seeing the island of Manhattan through their eyes is not just a plot point, it's the foundation of the story.
The Closing Argument: While DMZ unfolds in an alternate timeline, it's easy to identify the points in recent history that, if a different decision or two were made, would've set the real world on a path echoing that of DMZ. A network that treats the world of DMZ as a period piece instead of a fantasy could very well find themselves with the rare project that spans the divide between real-world drama and escapist adventure. Given all of those attributes, it's easy to believe we'll be getting another update from Wood soon enough — but this time, he'll be telling us about the network that did pick it up.
---
This Week's Comic Creator Recommendation: Bone by Jeff Smith (Cartoon Books)
"More than anything, I'd love to see Bone adapted as an animated feature. And in a perfect world, it would be lush, hand-drawn animation rather than computer-generated graphics. It's such a classic story, it deserves a classic treatment." 
– Ron Marz, the writer of numerous company- and creator-owned titles including Green Lantern (in which he co-created the Kyle Rayner character), Silver Surfer, Witchblade (which he currently writes), Shinku, and a long list of other titles from Top Cow, Marvel, DC, and other publishers.
---
Would "DMZ" make a good movie? Chime in below or on Facebook or Twitter.