"A Very Harold & Kumar 3D Christmas" gets a holiday-themed hallucinogenic trailer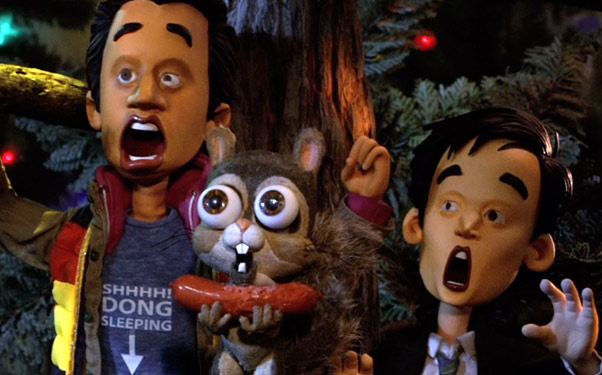 Posted by Aubrey Sitterson on
Yesterday, as you might recall, we were somewhat reserved in our assessment of the first official image from "A Very Harold & Kumar 3D Christmas." Yes, it has Neil Patrick Harris looking smug, and Jon Cho and Kal Penn dressed in funny outfits, but after a couple bad stoner movie experiences, we were trying to play it safe. Well, folks, now it's time to play it dangerous, because the first trailer for the movie is out and it's absolutely awesome.
After the lukewarmly received "Harold & Kumar Escape from Guantanamo Bay," the duo's new flick looks to be a return to form, with more surreal situations and exasperated dialogue than you can shake a two-foot glass bong at. And just as importantly, the movie still features a Korean guy and an Indian guy smoking weed, which makes boring white guys like us feel all warm and progressive inside.
Since Neil Patrick Harris' scene-stealing appearance in the first "H&K" movie, he's cashed in pretty heavily, so we were a little apprehensive over how his schtick would go over in "A Very Harold & Kumar 3D Christmas." We're happy to report, however, that his gimmick still works like a charm, even if you're not the kind of guy who tunes in for his awards-show hosting gigs. The trailer even takes a knowing, cynical approach to gimmicky 3D filmmaking, which, if you ask us, is the next best thing to just doing a movie in 2D.

What do you think about "A Very Harold & Kumar 3D Christmas"? Where do you think it will rank amongst the "H&K" flicks? Tell us below in the comments or on Facebook and Twitter.