IFC.com's 2011 Fall Movie Preview Guide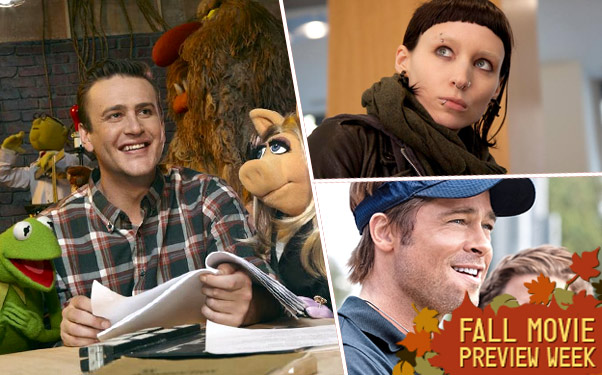 Posted by IFC on
---
10/14 – "THE BIG YEAR" (20th Century Fox – David Frankel – Comedy)
What Is It: Three hardcore birdwatchers (Steve Martin, Jack Black and Owen Wilson) set out to outdo each other in a contest to see who can spot the most bird species across North America in this adaptation of Mark Obmascik's comic novel, "The Big Year: A Tale of Man, Nature and Fowl Obsession." Rashida Jones, Anjelica Huston and Rosamund Pike provide a woman's touch to this testosterone-fueled tale of manly competition directed by David Frankel ("The Devil Wears Prada," "Marley & Me").
Why We Care: This sounds like one of those Wes Anderson movies that was made by someone besides Wes Anderson. Steve Martin, Jack Black and Owen Wilson as avid birdwatchers is already a golden comedy team in and of itself, but having them engaged in what will probably be a fiercely competitive cross-country odyssey sounds even better — we can't wait to see what kind of underhanded tactics these guys employ as they try to sabotage each other's quests. The existential questions conjured by such a "Waiting For Godot" kind of premise boggle the mind, but we're sure the road-comedy laughs and pokes at how unmovable the male ego can be will get priority over any smarty-pants analysis about life and death and our place in nature's grand scheme of things and whatnot. Besides the three ladies mentioned above, the impressive supporting cast also includes Brian Dennehy, Corbin Bernsen, JoBeth Williams, Anthony Anderson, Tim Blake Nelson, Kevin Pollak and Dianne Wiest. The birds are in good company!
---
10/14 – "THE THING" (Universal – Matthijs van Heijningen, Jr. – Sci-Fi Horror)
What Is It: The remake, er, prequel to John Carpenter's 1982 sci-fi horror classic follows an Antarctica-based Norwegian team of scientists (and a cute American grad student, natch) as they uncover a nasty alien lifeform that likes to replicate its victims and make everyone else all freaked out and paranoid and unable to trust anyone. But remember, it's not a remake — it's a prequel.
Why We Care: The producers of "The Thing" have pulled off a neat trick — their movie looks to have the exact same plot as its predecessor and yet it manages to dodge the bad feelings that come with being a "remake" by being a "prequel." In its defense, how could it not have the same plot — pretty much beat for beat — of John Carpenter's original? If you uncover this outer space nasty in an isolated setting, there's really only one way the whole thing (heh heh) can play out. And, remember, Carpenter himself set us up for this story — his film opens with the only survivors of the Norwegian team chasing and shooting at a poor doggie via helicopter. Yeah, the would-be sniper couldn't speak English, and everyone in this prequel seems to be able to just fine (how else could they communicate with the hottie American played by Mary Elizabeth Winstead?), but most people hate subtitles, so just go with it. Anyway, if "The Thing" is even half as scary and creepy as Carpenter's film, we're in for a delicious Halloween treat — and that R-rating is definitely a good sign.
---
10/21 – "MARTHA MARCY MAY MARLENE" (Fox Searchlight – Sean Durkin – Drama/Thriller)
What Is It: This festival darling stars Elizabeth Olsen (an Olsen Non-Twin) as Martha, a young woman trying to piece her life — and sanity — back together after she flees from an abusive cult led by the creepy, manipulative Patrick (John Hawkes). Fantasy, reality and memory all blend into a dark and sinister dreamscape in a moody thriller that many are calling this year's "Winter's Bone" (in which Hawkes played Teardrop). Writer-director T. Sean Durkin won the Directing Award at the 2011 Sundance Film Festival.
Why We Care: If something is being described as "this year's 'Winter's Bone,'" you bet we're going to be first in line to see it. The trailer for "Martha Marcy May Marlene" is heavy on the dread as Elizabeth Olsen proves she ain't her sisters' sister (probably a very conscious career move on her part) in what looks like a devastating performance as the victim of a cult that bent her sense of space and time — and identity (see the title). Expect to feel constantly creeped out and uncomfortable at this one, a sensation that very few films are able to pull off — we're betting that T. Sean Durkin definitely earned that Sundance directing award and then some. Also, the more John Hawkes we can get in our lives, the better — he'll also be featured this fall in Steven Soderbergh's "Contagion."
---
10/21 – "PARANORMAL ACTIVITY 3" (Paramount – Henry Joost – Horror)
What Is It: Things go bump a third time as we go back to the '80s to see the beginnings of sisters Kristi and Katie's little problem with a demon that likes to drag people out of bed, beat up dogs and make all of the kitchen cupboards slam open at once. Apparently, you really shouldn't do that "Bloody Mary three times in front of a mirror" thing, unless you're up for a lifetime of bad supernatural mojo.
Why We Care: The "Paranormal Activity" movies are that ultra-rare kind of low-budget horror film: cleverly written, unobtrusively directed and actually scary. Kudos to Paramount for having "Paranormal Activity 2" stay more or less true to the DIY vibe of the original, and even more kudos for sticking to the aesthetic for this third (and, we're assuming, final) chapter. "PA2" was also slick in serving as both a prequel and sequel to its predecessor, a narrative combo that looks to be continuing with the third installment as we go back and forth between the '80s (with Kristi and Katie as grade-school kids) and the present day (where we last saw the possessed Katie kidnapping poor Kristi's infant son). Bring on another round of creepy video surveillance and neat-o sound design! A side observation: is it just us or, judging from the trailer, is the picture quality of the analog VHS camera capturing all of the '80s events really, really good?
---
10/21 – "RED STATE" (SModcast Pictures – Kevin Smith – Horror)
What Is It: Three teenage boys respond to a post on "the Craigslist for people who want to get fucked" and end up being punished for getting down with the Devil's business by a group of crazy Fundamentalists who dish out the violent wrath of God upon the wicked. Later, the law (John Goodman and Kevin Pollack) tracks down these Bible-thumping crazies and a righteous all-out war ensues. From the director of "Jersey Girl."
Why We Care: After "Jay and Silent Bob Strike Back" (still one of the grandest inside jokes to ever come out of Hollywood), Kevin Smith has been struggling to find his voice outside the View Askewiverse. He tried romantic comedies outside the Askewiverse, some more successful ("Zack and Miri Make a Porno") than others ("Jersey Girl"). He indulged in a poignant and enjoyable but ultimately unnecessary return to the well ("Clerks II") and even tried to be a director for hire ("Cop Out"). And none of these noble endeavors have been able to catch that old "Clerks" and "Chasing Amy" magic. We think Kevin needs to completely stray from the land of comedy he feels so comfortable in to truly redefine himself as a filmmaker, which is why we have high hopes for his first dabbling in the horror-thriller genre. Smith has always had a bug up his ass about the concept of "religion" and all of its wide and wonderful contradictions, and it looks like "Red State" goes places that "Dogma" didn't dare venture. No matter the end result, this is exciting new territory for the much-beloved geek auteur who isn't so much growing up as he is finally truly branching out.
---
10/28 – "IN TIME" (20th Century Fox – Andrew Niccol – Sci-Fi Thriller)
What Is It: "Gattaca" director Andrew Niccol returns to spin the tale of a future in which humans stop aging at 25, and anything beyond is bought and traded as a commodity. The weighted system thus ensures that rich folks can live forever whereas poor people…well, you get the idea. When one young man (Justin Timberlake) inherits a fortune in time credits, he is accused of murder and forced to go on the run, where he is lucky enough to run into Amanda Seyfried.
Why We Care: Niccols is a prolific storyteller, having not only wrote and directed the fan-favorite sci-fi pic "Gattica" but also the excellent Nicolas Cage thriller "Lord of War." This is his first project since that 2005 film and we're excited to see where he takes "In Time." The story isn't particularly original — it easily compares to the '70s "Logan's Run" — but Niccols has proven an ability to craft a unique take on the material, and he has a talented cast to helm him do that. Justin Timberlake takes the lead in his first starring non-comedic role, and given his impressive versatility in roles like "The Social Network" and "Alpha Dog," it'll be interested to see what he can do with a non-ensamble thriller.
---
10/28 – "LIKE CRAZY" (Paramount Vantage – Drake Doremus – Drama)
What Is It: The college romance between an American (Anton Yelchin) and a British foreign exchange student (Felicity Jones) suddenly becomes complicated post-gradution by the challenges of being long-distance when her expired Visa sends her back to England. They struggle to keep their passion alive, despite the miles and the distractions of other attractive young people — Jennifer Lawrence for him (can you blame him?), Charlie Bewley for her. Winner of the Grand Jury Prize at the 2011 Sundance Film Festival.
Why We Care: Even if "Like Crazy" ends up being a bit hokey and contrived, its sincerity is going to take it a long way — the two trailers score a lot of points just for being so unapologetically, un-self-consciously emotional as they show us the personal hells of loneliness in which these two characters are suffering — and the guilt and confusion that comes with such passion eventually fading due to the distance that inevitably becomes more than just physical. This looks like one big ol' ultra-personal project for writer-director Drake Doremus — and the fact that he's only 28 has us thinking that he's actually experienced at least a similar situation, and relatively recently. Even if "Like Crazy" can't quite hold it together all the way up to breaking up with the audience, you know it's at least always coming from the heart.
Extra: Watch the "Like Crazy" trailer with exclusive audio commentary from director Drake Doremus
---
10/28 – "THE RUM DIARY" (FilmDistrict – Bruce Robinson – Drama)
What Is It: Based on an early work by Hunter S. Thompson, "The Rum Diary" follows freelance journalist Paul Kemp (Thompson alum Johnny Depp) as he tries to save himself from the various self-destructive lost souls surrounding him while working for a small newspaper in the Caribbean. Bruce Robinson ("Withnail and I," "How to Succeed in Advertising") directs this darkly comic tale co-starring Amber Heard, Aaron Eckhart, Giovanni Ribisi and Richard Jenkins.
Why We Care: This definitely ain't Captain Jack Sparrow's Caribbean! We're excited for another melding of the acting talents of Johnny Depp with the writings of the late, great Hunter S. Thompson after their first collaboration turned out so well: Terry Gilliam's 1998 mind-bending drug odyssey, "Fear and Loathing in Las Vegas." While it would've been great if Gilliam had returned for another round of gonzo filmmaking, Bruce Robinson in the director's chair will more than suffice — "The Rum Diary" marks his first directorial gig since 1992's so-so thriller, "Jennifer Eight," but we know the man behind both "Withnail and I" (a joyful portrait of two drunk out-of-work theatre people) and "How to Get Ahead in Advertising" (which features Robinson himself as the voice of a talking boil on Richard E. Grant's shoulder) can pull off this kind of bizarre material. Bonus: Amber Heard is becoming quite the go-to young hottie for edgy, interesting projects — the fact that she's not just running off to romantic comedy land is admirable… and hot!
---
10/28 – "JANIE JONES" (Tribeca Films – David M. Rosenthal – Drama)
What Is It: A young teen (Abigail Breslin) is abandoned by her junkie mother (Elisabeth Shue) at a concert and thrust into a relationship with her newly-discovered father (Alessandro Nivola), a troubled, alcoholic rock star who stumbles into one spot of trouble after another. Reluctantly agreeing to take his daughter on tour, the film follows their journey as they travel from show to show, slowly learning about each other amidst a rapidly unraveling band. "Janie Jones" features original music and Breslin learned to sing and play guitar for the role.
Why We Care: "Janie Jones" is arguably the best music film since "Walk the Line," with Abigail Breslin delivering another career-defining performance (the first being "Little Miss Sunshine"). Heartfelt and gripping, "Janie Jones" establishes without a doubt that Breslin is one of the leading actors of her generation, able to gently craft a scene with equal parts vulnerability and strength. Nivola, for his part, shines in his role as a troubled frontman, with the actor taking the stage with a commanding presence and easily stepping into the shoes of a Scott Weiland-type character. The film is touching, funny and memorable, ushering audiences on a ride as large and bumpy as their tour bus.