Exclusive download & interview: White Denim's woozy "Street Joy"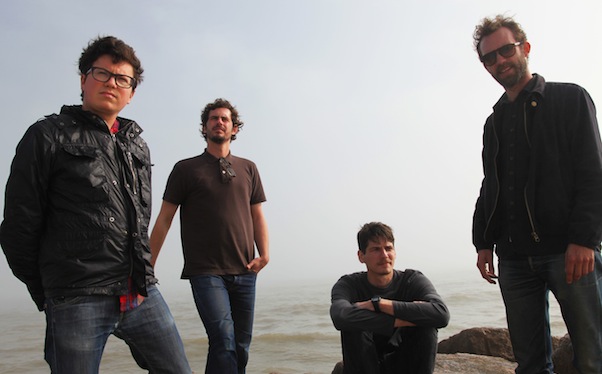 Posted by Grayson Currin on
"At what point does a waterfall of surprises become just another drowning crush of predictable unpredictability?" asked Paste critic Jason Ferguson at the start of his mostly spot-on review of D, the fourth album by Austin quartet White Denim. Conduits of eclecticism in an indie rock atmosphere where such post-modern magpie tendencies have become increasingly common, White Denim indeed jumps from place to place on D, springing from jittery indie rock to psychedelic adventures at a clip that's sometimes a bit unsettling.
But "Street Joy," the first real mid-tempo moment of the band's career, is appropriately a song about settling down and finding a truthful core. Though it's not going to be a summer anthem for anyone, "Street Joy" does show that, despite all the surface-level jumpiness, there's a strong songwriting core within White Denim. We caught up with frontman James Petralli while the band tried to find a hotel in downtown Chicago to talk "Street Joy," which you can download here.
I haven't seen you live on this tour, but I've noticed through a few live reviews that you're leaning heavily on the new album, D, for the shows. Do these new songs mold well with the previous material?
It's pretty continuous. We feel like all of our music lends itself well to the live area, so we're able to segue the tunes. The new material fits nicely.
One aspect of your band seems to have long been changing older songs on stage. Has that started with the songs from D yet?
Yeah, but this record, more than any of the others, we're true to what we recorded. That has to do with the pre-production we put into making D. I'm sure that, by the end of the next tour we do, we'll be stretching out and working arrangements into new things. We never like to stay in one place for too long, but at this point, we're pretty true to form. We're definitely cutting sections and lengthening sections and doing different arrangements of some of the older tunes. It depends on what we're feeling at the moment.
What's your favorite new tune to play live right now?
I think I'd probably play "Anvil Everything" right now. It's fun to lock with the band on that.
Tell me about "Street Joy," the song just before "Anvil Everything." It's such a change of pace.
It was a late addition to the record. I wanted to write three more tunes for the record, and I put that one on the list thinking that it wouldn't end up being something everyone was into. But it was quite the opposite; everyone got really excited about it, and we cut it. It's kind of a different song for us. We've never really done anything super mid-tempo and stripped down like that. It was exciting, a completely different approach for us.
Why did you think the band might not take to it?
I assume that the band likes the up-tempo stuff, or would go for that. People generally do go for up-tempo over mid-tempo. It's a moody tune, as well. It has an intimate, personal feeling, and I figured maybe that would be funny because it was so different. I sent them a demo of it, and I sent it in an e-mail. In the body of the e-mail, I said, "I'm not sure if you're going to like this." They listened to it once a piece and were really excited. I got super enthusiastic e-mails back within 10 minutes. It was pretty immediate for them.
How does White Denim work in terms of songwriting structure? Does the rest of the band add parts to your songs, or is it more collaborative than that?
It's been different for each record. With D, I did a lot of demoing at home. The band spent the same amount of time listening. I was basically sending scratch tracks and all that stuff via e-mail, and we ultimately familiarized ourselves with the parts and got together and rehearsed everything for an extended period of time before we started tracking. All the arrangements and instrumentation changed, so it was definitely a more collaborative thing.
What's "Street Joy" say to you or about you?
I think that this record, for me, deals with getting older and trying to make space for the goals that you have when you're young and what that does to you as you're aging. I think that's what "Street Joy" is about.
What are those goals?
I think they're always changing. I hate to be really political, but I think, at least for me, when I first started working on this thing, I just wanted to make pleasing but antagonistic punky rock. There was a lot more sarcasm involved in the writing. There was a lot of distance there. My goals shifted, and I wanted to say something that was a little more representative of who I actually am. I was projecting less.
That seems like a difficult change as a rock musician, giving up some of that bravado for more honesty.
I think this record, for all of us, was an opportunity to do something that was a little less self-conscious in the making of it. Everything is right there. All the parts are clearly audible, and we really focused on getting honest performances. On all levels, this record was that for this band.
Did that make the studio more stressful, just in terms of getting the parts right and not hiding behind an image at all?
In some ways, it was a little bit more difficult because we weren't really allowing ourselves the luxury of punches. There was a little more pressure on the performances in the studio, and we upped the quality in the studio as well. We didn't obscure things with effects as much. We wanted it to be like an early '70s record, so there was that pressure. But over the years, I think we've realized that we can play well together in the live context. We wanted to try to apply more of that, so in that sense, it was more relaxed. We didn't have to do much in post-production. It was more about the work we'd done beforehand.