Music for Fridays: The War on Drugs' massive "Come to the City"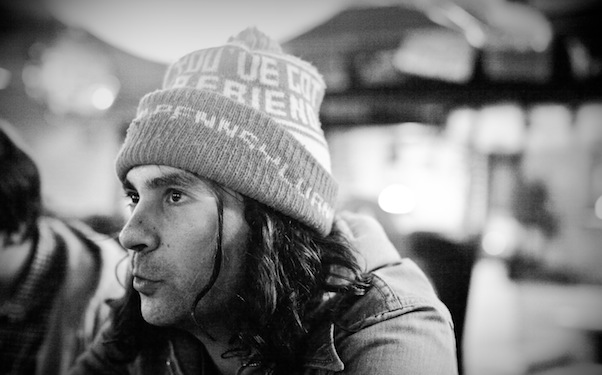 Posted by Grayson Currin on
Note: Each Friday, we'll close with a song we consider a suiting goodbye for the workweek. With each Music for Fridays post, check for a free mp3. Download the song here.
On Slave Ambient, the second album from one of my favorite bands in the world, Philadelphia's The War on Drugs, "Come to the City" pours from an instrumental drone that glows and rolls like this world isn't one giant rush. A steady drum trot finally falls into a seemingly eternal organ-and-horn exhalation, building into the mix from beneath it, fireworks falling in reverse. (Download it here.)
"Lead me back to the place I'm from," sings frontman Adam Granduciel when he finally arrives, his voice reflecting the perfect mix of comfort and anticipation. "Past the farms and debris." The track builds around him until its about to burst, the volume of the keyboards and drums filling every corner of any speaker they can find. Granduciel finally lets out one of those canonical yelps, like Springsteen hollering into the New Jersey night or an ancient bluesman howling into the Mississippi steam; it's then that the track cracks its own walls with a guitar that's louder and more commanding than one could've even imagined. But still, it takes its time, studying itself, careful not to burn out too soon. Rock 'n' roll is so often about proclamation and the energy of a moment; this feels like the rock you grew up with, but it's about gestalt and maintenance and rambling through the tones and the sights to finally find the point. That's what The War on Drugs does so well, and here–on a track that should convince you to throw open your windows and your doors this weekend–they do it better than they've ever done it before.
(Disclosure: I wrote the artist biography for Secretly Canadian about this band, but that shouldn't stop you from enjoying this free track.)