Comic-Con: "Voltron" live-action movie announced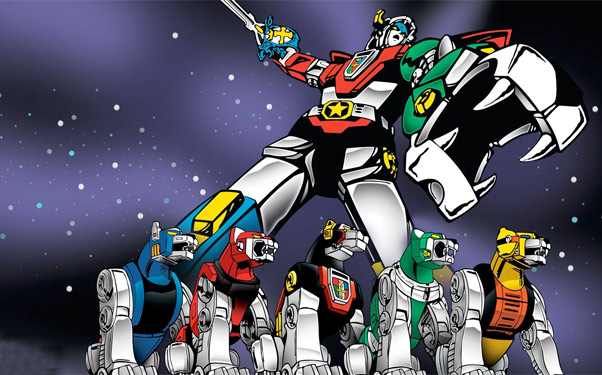 Posted by Brian Jacks on
Are robots the new vampires? It seems that way with the new glut of machine-powered superheroes, and adding further fuel to that fire is Relativity Media announcing during their Comic-Con panel that they have acquired the rights to the fan-favorite '80s cartoon, "Voltron: Defender of the Universe."
A "Voltron" big-screen adaptation has been bouncing around Hollywood for years, attracting different owners and most recently getting a script from frequent geek screenwriter Justin Marks (who also penned producer Joel Singer's once-promising He-Man reboot). The new project will apparently jettison existing scripts though in favor of one written by Thomas Dean Donnelly ("Conan the Barbarian") and Joshua Oppenheimer ("Sahara"), who will undoubtedly bring their own stamp to the sci-fi franchise.
"Voltron" immediately conjures up images of interlocking lion-like animals combining to form a super-mega-huge robot that swung an impressively sized sword. The show followed five young warriors who defended the fate of mankind, piloting their creatures across the universe and engaging in colossal space battles. The series, originally based on Japanese anime, has spawned comics, a wide range of merchandise and a recently-premiered, highly-rated show on Nicktoon.
Fans have been anxiously waiting for years to see what would happen with the property, and a principal goal from the studio seems to be re-assuring audiences that their take on "Voltron" that will stay true to the original series. "I know there's been a lot of rumors and speculation about this movie," says the film's producer, "so it's great to finally confirm to all the Voltron fans everywhere that we're coming for them."
Are you excited to see "Voltron" finally hit theaters? Chime in below or on Facebook or Twitter.