"Umbrella Academy," the comic from My Chemical Romance's Gerard Way, gets a new screenwriter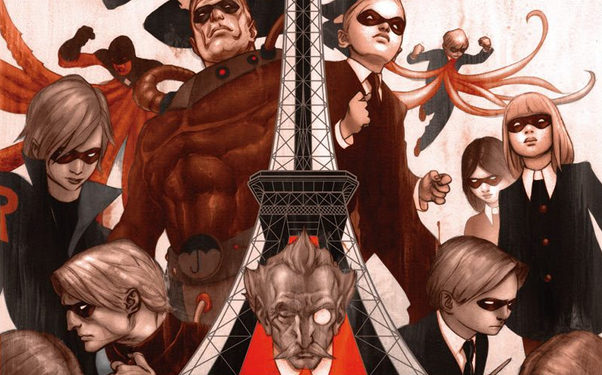 Posted by Rick Marshall on
It's been a busy bunch of years for comic book movies, and while the big-screen development of well-known Marvel and DC icons is always fun to follow, it's nice to see some of the great books lying off the well-trod superhero path get some attention, too.
According to Slashfilm, "Dodgeball" writer and director Rawson Thurber has been tasked to rewrite the script for "The Umbrella Academy," the award-winning Dark Horse Comics series about a family of dysfunctional superheroes who reunite after the death of their adopted father.
Written by My Chemical Romance singer Gerard Way and illustrated by Gabriel Ba, "The Umbrella Academy" received the Eisner Award (the highest award in the comics biz) when it first debuted in 2007. A big-screen adaptation of the series has long been in the works, and looked like it was moving ahead a few years back when Dark Horse announced a partnership with Universal Pictures to develop several of its projects (including the upcoming film "R.I.P.D." with Ryan Reynolds and Jeff Bridges).
"Race to Witch Mountain" writer Mark Bomback was originally attached to script the adaptation of "Umbrella Academy," but not it appears that Thurber will give the project a complete rewrite.
A decidedly unique spin on superhero fare, "The Umbrella Academy" features seven children with vastly different powers who were adopted by the mysterious Sir Reginald Hargreeves, "inventor of the televator, the levitator, the mobile umbrella communicator, and Clever Crisp cereal." The group eventually grows apart due to personal conflicts, tragedy, and a variety of other issues, but finds themselves together again when Hargreeves dies.
Two six-issue series have been published thus far, as well as several short stories featuring the characters. A third limited series, "Hotel Oblivion," was announced back in 2009, but has yet to hit shelves.