Travis Bean, 1947-2011; members of Sonic Youth, Earth & Sunn O))) speak about the legend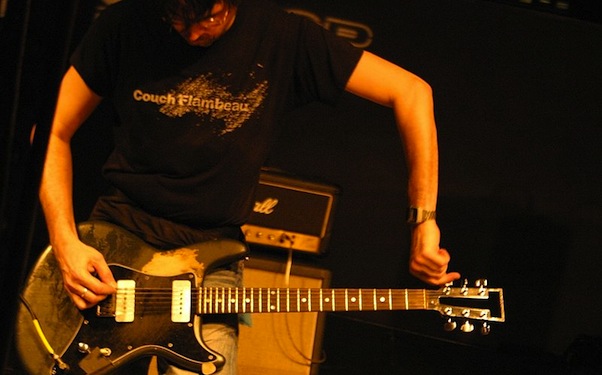 Posted by Grayson Currin on
On Oct. 21, 1974, Californian Clifford Travis Bean filed a U.S. patent with the intention of making a guitar from "extruded aluminum." His goal, read the patent, was to create an instrument that resulted in "stable and versatile tones." Nearly four decades later, it's safe to say that Bean, who died last Friday at the age of 63, was successful in his stated aims.
In the five years following his filed patent, Bean produced some 3,600 instruments that are not only by and large still in use today but also still influencing new generations of guitar makers and players. His heavy, unmistakable aluminum-necked guitars have an unwavering reputation for tone, sustain and musical flexibility. Though they're most popular now at the intersection of heavy metal and indie rock, they've been used over the years by The Rolling Stones, The Grateful Dead, Thin Lizzy and jazz guitarist Stanley Jordan.
Earlier this week, I asked one longtime Bean adherent, Earth's Dylan Carlson, about those guitars and their maker. "Travis was a metallurgical and woody alchemist and visionary of the highest order," he replied. "He and the instruments he constructed were beautiful examples of form and function united in beautiful proportion, without gimmicks, doodads, falderal and ugly bling. A revered name in instrument building, deserving of wider recognition–may he play forever in the fields of the blessed."
Below, watch five examples of Bean guitars being put to perfect use.
1: Sonic Youth, "Becuz"

During the last three decades, it's often seemed that Sonic Youth was exploiting an arsenal of equipment onstage and in the studio–dozens of guitars and pedals and cables and amps, all seemingly interchangeable. But Lee Ranaldo is a longtime fan of Travis Bean guitars; he plays one of them in this incendiary live take on "Becuz." He owns four, and he says that he not only admires the way they sound but also their historical links.
"It didn't hurt that a player I very much admired–Jerry Garcia–played them for awhile, either," he told me after Bean's death. "I was (and still am) fixated on the Wide-Range Humbucker pickups that Fender used in their Tele Deluxes circa 1970, and those were–and still are–the pickups of choice for me. I put them in all my guitars. The Travis pickups not only look similar but sound remarkably the same. I'm not sure if he modeled them on Fender's or not, but they sure sound the same. In any case, they sound great to my ears, immediately providing the tone that I like."
2: Shellac, "Prayer to God"

This is a brutal crowd recording of any already brutal Shellac track, where the drums blow out the microphone constantly and the bass is but a muddy bludgeon. Those conditions only serve to emphasize how crisp and perfect Steve Albini's Travis Bean guitar sounds breaking through all of the mess. Albini is a dude that's happy to get on a loud-mouth soapbox. But he doesn't need to proselytize about this guitar. He only needs to play.
3: Sunn O))), Live video and interview

The forthcoming documentary about Travis Bean guitars is called Sustain. There's perhaps no better band to illustrate that facet of these metal-neck beasts than Sunn O))), the robe-wearing, fog-shrouded drone metal band that's taken big riffs to bigger places during the last decade. Greg Anderson and Stephen O'Malley aren't strict Bean adherents, but, as this video shows, the Bean does grim really well.
"Best guitars I ever played," O'Malley recently told me. "The sustain is much more pronounced and to put it mildly incredible. The tone is closer to a piano or even classical harp, with a metal soundboard. The pickups are wound around half a volt higher than a Les Paul, for example, yet despite this I find them incredibly versatile as far as sound.
"There's much less equipment needed with a Bean and a great tube amp," he continued "I didn't play another guitar for around five years until O))) did a tour as a duo in 2009, where I picked up my Les Paul Custom silverburst. Night and day. The grappling physicality I became used to with my first Bean would have cracked the LP in half. After that experience, I realized how different, mature, advanced the Bean's intent was."
4: The Jesus Lizard, "Mouth Breather"

Duane Denison doesn't play his sea foam Travis Bean guitar on tour too much anymore, likely because these guitars were, well, extremely heavy. But as you can hear in this old live recording, Beans–known for their sustain, sure–were capable of agility, too. "Mouth Breather" is nothing if not shifty and swiveling. Denison's guitar allows it to be menacing, too.
5: Public Image Ltd, "Graveyard" & "Low Life"

Keith Levene was the oft-imitated if under-acclaimed guitarist during one of Public Image Ltd.'s most crucial periods. In the first half of this video, notice the way his Bean pierces through the bass plod and John Lydon's paroxysm. His line is simple, but his sound seems so sophisticated. That's the Bean at work.
Have you ever played a Travis Bean guitar? Tell us about it.