First wave of 2011 Toronto Film Festival titles announced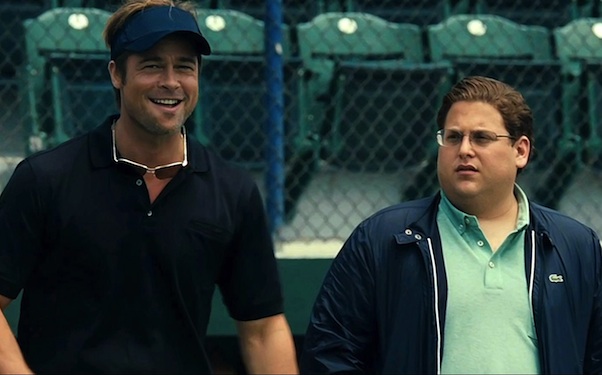 Posted by Matt Singer on
Straight from the Twitter feed of festival co-director Cameron Bailey comes the first wave of titles from this year's Toronto Film Festival. And they are:
–"Trishna," directed by Michael Winterbottom, starring Freida Pinto and Riz Ahmed (World Premiere)
–"The Lady," directed by Luc Besson, starring Michelle Yeoh and David Thewlis (WP)
–"Countdown," directed by Huh Jong-ho (WP) starring Jeon Do-yeon (WP)
–"360," directed by Fernando Mereilles, starring Jude Law, Rachel Weisz, and Anthony Hopkins. (WP)
–"Moneyball," directed by Bennett Miller, starring Brad Pitt and Jonah Hill (WP)
The festival announced the rest of the first wave of titles at a press conference earlier today (you can read quotes from the announcement plus synopses for all the movies over on indieWIRE). Highlights include new movies from George Clooney, Alexander Payne, Cameron Crowe, Madonna, Francis Ford Coppola, William Friedkin, The Duplass Brothers, and Marjane Satrapi and Vincent Paronnaud (the creators of "Persepolis").
Here's the rest of the lineup thus far; TIFF's official Twitter page says there will be more titles added weekly. What a tech-savvy fest. This year's Toronto Film Festival runs September 8 thru 18.
Galas
"Albert Nobbs," directed by Rodrigo Garcia, starring Glenn Glose
"Butter," directed by Jim Field Smith, starring Jennifer Garner, Hugh Jackman and Olivia Wilde
"From the Sky Down," directed by Davis Guggenheim, starring U2
"A Happy Event," directed by Rémi Bezancon
"The Ides of March," directed by George Clooney, starring Ryan Gosling, Paul Giamatti, and Clooney
"Peace, Love, & Misunderstanding," directed by Bruce Beresford, starring Jane Fonda and Catherine Keener
"Take this Waltz," directed by Sarah Polley
"W.E.," directed by Madonna
Special Presentations
"11 Flowers," directed by Wang Xiaoshuai
"50/50," directed by Jonathan Levine, starring Joseph Gordon-Levitt and Seth Rogen
"Americano," directed by Mathieu Demy, starring Salma Hayek
"Anonymous," directed by Roland Emmerich, starring David Thelwis and Vanessa Redgrave
"The Artist," directed by Michel Hazanavicius, starring Malcolm McDowell and John Goodman
"A Better Life," directed by Cédric Khan, starring Guillaume Canet
"Burning Man," directed by Jonathan Teplitzky
"Chicken With Plums," directed by Marjane Satrapi and Vincent Paronnaud
"Coriolanus," directed by Ralph Fiennes
"Dark Horse," directed by Todd Solondz, starring Justin Bartha and Selma Blair
"The Deep Blue Sea," directed by Terrence Davies, starring Rachel Weisz
"The Descendants," directed by Alexander Payne, starring George Clooney
"Drive," directed by Nicolas Winding Refn, starring Ryan Gosling and Albert Brooks
"Elles," directed by Malgorzata Szumowska, starring Juliette Binoche
"The Eye of the Storm," directed by Fred Schepisi, starring Geoffrey Rush and Charlotte Rampling
"Friends With Kids," directed by Jennifer Westfeld, starring Kristen Wiig and Megan Fox
"Habemus Papam," directed by Nanni Moretti
"Headhunters," directed by Morten Tyldum
"Hick," directed by Derick Martini, starring Chloe Moretz and Blake Lively
"The Hunter," directed by Daniel Nettheim, starring Willem Dafoe
"Jeff, Who Lives at Home," directed by Jay and Mark Duplass, starring Jason Segel and Ed Helms
"Killer Joe," directed by William Friedkin," starring Emile Hirsch and Matthew McConaughey
"Like Crazy," directed by Drake Doremus, starring Anton Yelchin and Felicity Jones
"Machine Gun Preacher," directed by Marc Forster, starring Gerard Butler
"Martha Marcy May Marlene," directed by Sean Durkin, starring Elizabeth Olsen and John Hawkes
"Melancholia," directed by Lars von Trier, starring Kirsten Dunst
"The Oranges," directed by Julian Farino, starring Leighton Meester and Adam Brody
"Pearl Jam Twenty," directed by Cameron Crowe
"Rampart," directed by Oren Moverman," starring Woody Harrelson and Sigourney Weaver
"Salmon Fishing in the Yemen," directed by Lasse Hallstrom, starring Ewan McGregor and Emily Blunt
"Shame," directed by Steve McQueen starring Michael Fassbender and Carey Mulligan
"A Simple Life," directed by Ann Hui, starring Andy Lau
"The Skin I Live In," directed by Pedro Almodóvar, starring Antonio Banderas
"Take Shelter," directed Jeff Nichols, starring Michael Shannon and Jessica Chastain
"Ten Year," directed Jamie Linden, starring Channign Tatum and Rosario Dawson
"Twixt," directed by Francis Ford Coppola, starring Val Kilmer and Elle Fanning
"Tyrannosaur," directed by Paddy Considine
"We Need to Talk About Kevin," directed by Lynne Ramsay, starring Tilda Swinton
"Where Do We Go Now?" directed by Nadine Labaki
"Woman in the Fifth," directed by Pawel Pawlikowski, starring Ethan Hawke and Kristin Scott Thomas
What other titles do you want to see at Toronto 2011? Tell us in the comments below or on Facebook and Twitter.