Exclusive download & interview: John Congleton's urgent The Nighty Nite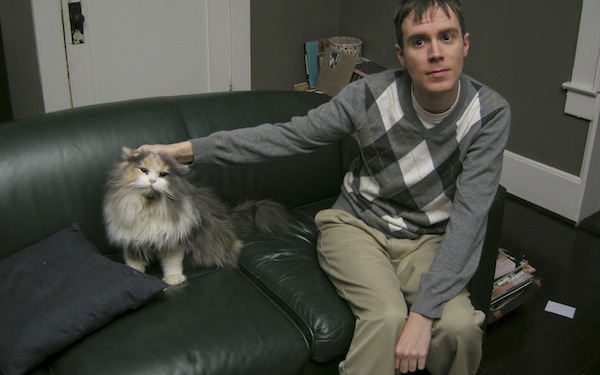 Posted by Grayson Currin on
If Dimples, the name of the debut EP by the Texas band The Nighty Nite, suggests a certain romantic sweetness, you're going to be disappointed. Led by former Paper Chase frontman and producer extraordinare John Congleton, The Nighty Nite fills Dimples with references to cancer, murder and greed, all delivered with the sort of Pentecostal urgency that makes you feel like bad things are just around the corner.
But these songs actually have enough punch and potency to wipe a smile across your face, with hooks that are built for the big time and then hurled with magnetizing gusto. Only the beginning of what Congleton hopes becomes a much bigger body of work, Dimples is a beautiful, brutal collection that makes you want more immediately after their thundering cover of The Magnetic Fields' "Meaningless" ends.
We spoke with Congleton about The Nighty Nite by e-mail. You can download the EP's first track, "Dimes in Their Dimples," here.
How long have the songs on Dimples been written?
A real long while. That's actually why I chose to release these songs, because they were so old, written before any band other than The Paper Chase was in my life. These were around and just kinda sitting there with no home.
How did the The Nighty Nite come together, and what input did the band as a unit have on writing/recording these songs?
I'm a busy guy, so I just write whenever I can. I kinda just peck away at things in hotels or late at night, after sessions. Everything we have been playing was stuff put together long before I had band members in mind. Once I did have people pieced together, I just sent them demos. We had to practice to see how we would get along playing together. I knew there was a real danger of it seeming too much like a studio creation, which there is a saturation of right now. I wanted us to be able to be a real good live band.
How do you see this work relative to The Paper Chase–a continuum or a departure, and why?
A continuum. Everything I do is similar and feels like one long narrative to me.
There's sickness and thoughts of adultery and accusations of commercial wastefulness here: What connects them?
In my personal interests and creative life, I've always been drawn to hyperbolic situations and extreme characters. I like my life to be placid and calm, but I'm attracted to drama in art and in humanity. That's the only connection I can really make with any validity. I'm a
happy person, but my music never sounds that way.
Is there one lyric or moment you're proud of here, either as a writer or band member or both?
I really like the lyric "In my hospital gown directing traffic somewhere downtown" because it's such a short, colorful sentence. It's disgusting and cute, funny and sad, hopeful and miserable–all at the same time. I feel like I'm always trying to do things like combine opposites and see if they can live harmoniously in music. The Paper Chase was like that a lot to me as well.
You seem interested in a combination of noise and tunefulness. Who are other writers and composers who accomplish this for you?
Wow, great question because that's truly what interests me–things that are almost beautiful or slightly crippled melodies. Awesome melodies played poorly or awkwardly is like a musically crystalized humanity to me. We are flawed but some of us can be so beautiful in those flaws. I think that Scott Walker has really nailed that with The Drift, Lou Reed with Berlin.
When did you first hear "Meaningless," and why do you feel it's appropriate as the closing statement of this band's first release?
In The Paper Chase, we had a member who was a Magnetic Fields fan. It took me a real long while to get it, but once I heard 69 Love Songs, my interest grew. "Meaningless" is simply a song I wish I wrote. I think it's positively superb and a perfect ha-ha, wink-wink for this band, even if I'm the only one who gets the joke. I think people will get the punch line once more music comes out from The Nighty Nite. The songs we've been preforming live that have been written directly for the band are really zeroing in on how "meaningless" existence can feel but at the same time jabbing myself for being a navel gazer. It's all very funny to me, like a black comedy. I enjoy the beauty of philosophy and science but adore the absurdity of it.
What's next for the band?
I wanna play more, and that's the plan. We're gonna be recording an LP as soon as I have enough time to figure out what time zone I'm in.