New "Hunger Games" photos show us Katniss and her two leading men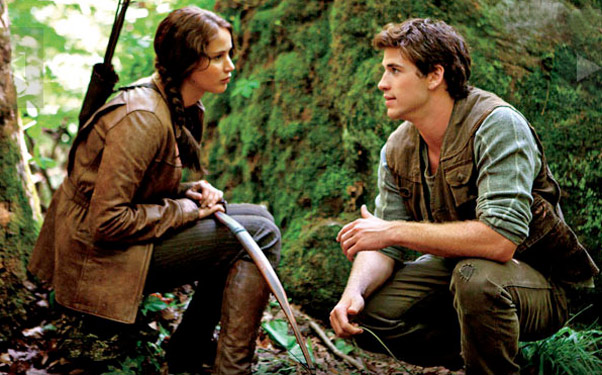 Posted by Brian Jacks on
I'm nearly through with the third book in Suzanne Collins' dark dystopia series "The Hunger Games," and I haven't been able to put it down. The story is a wonderfully written, emotional take on a teenage girl forced into the most horrific of circumstances, and her journey through a damaged world teetering on the brink of revolution. The novels have been runaway bestsellers and now with a movie on the way, we have our first real look at the three main characters in action courtesy of EW.
The books follow Katniss Everdeen, a 16-year-old girl living in the post-apocalyptic nation of Panem in the former USA. As penance for the outlying districts rising up against the capitol decades ago, each of the twelve regions is forced to send one boy and one girl to the annual Hunger Games, an arena-based fight to the death.
"Winter's Boss" star Jennifer Lawrence has been cast in the main role, with Liam Hemsworth as her best friend and hunting partner Gale Hawthorne and Josh Hutcherson as Peeta, the baker's boy who is picked along with Katniss to serve as the tributes at that year's games. While technically a young adult series, "Hunger Games" is incredibly mature in its themes and doesn't pull any punches when it comes to the state-sanctioned murders in the trap-ridden arena. It should make for one hell of a film, and we're anxiously looking forward to seeing Hollywood's vision.

Josh Hutcherson in "The Hunger Games"

Liam Hemsworth and Josh Hutcherson in "The Hunger Games"
What are you looking forward to seeing most from "The Hunger Games" movie? Chime in below or on Facebook or Twitter.