Peter Jackson's "The Hobbit" reveals yet another dwarf… and his goblin-cleaving sword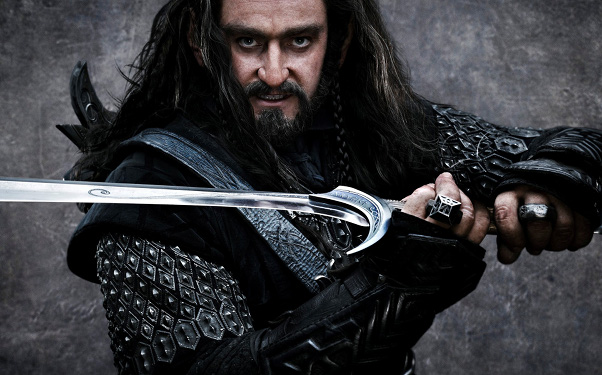 Posted by Rick Marshall on
Over the last week or so, the dwarves of Peter Jackson's upcoming film "The Hobbit: An Unexpected Journey" have made their debuts online, offering a taste of what's to come when the "Lord of the Rings" prequel arrives on the big screen.
The final member of the "Hobbit" troupe was revealed today in a new image featuring Richard Armitage as Thorin Oakenshield, the leader of the dwarves who set off to rid their homeland of the dragon Smaug. The image premiered on J.R.R. Tolkien fan site TheOneRing.net, and it's not just the character's debut that has fans buzzing.
Also seen in the image is Thorin's sword, "Orcrist the Goblin-Cleaver" — which plays a major role in the story of "The Hobbit."
For those who might not be familiar with the history of Middle Earth, there's also a quick synopsis of the character and his role in the overall arc of the film:
As a young Dwarf prince, Thorin witnessed the destruction and terror wrought when a great fire-breathing Dragon attacked the Dwarf Kingdom of Erebor. After slaughtering many of Thorin's kin, the great serpent, Smaug, entered The Lonely Mountain and took possession of its vast store of gold and jewels. No-one came to the aid of the surviving Dwarves, and thus, a once proud and noble race was forced into exile. Through long years of hardship, Thorin grew to be a strong and fearless fighter and revered leader. In his heart a fierce desire grew; a desire to reclaim his homeland and destroy the beast that had brought such misery upon his people. So when fate offers him an unusual ally, he seizes the chance for revenge.
"The Hobbit" is expected to hit theaters in 2012, and features Martin Freeman as Bilbo Baggins and Ian McKellen as Gandalf.
What do you think of the image? Chime in below or on Facebook or Twitter.