The discerning film nerd's guide to Friday at Comic-Con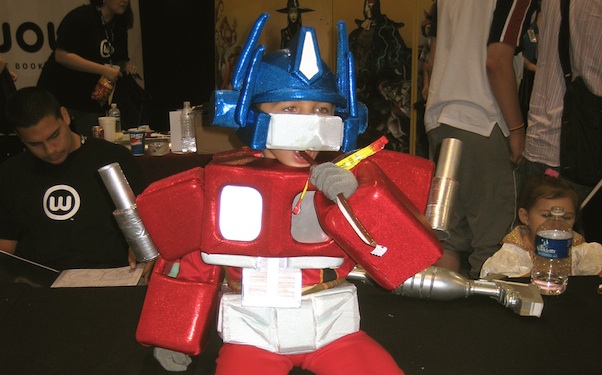 Posted by Matt Singer on
It feels like it was just yesterday I was pouring over this year's Thursday schedule at San Diego Comic-Con to put together The Discerning Film Nerd's Guide to the best programming.
Wait, that wasn't yesterday, that was like three hours ago. Boy, time sure doesn't fly when you're missing out on Comic-Con.
Anyway, Comic-Con's Friday schedule is now up as well and once again I've poured over it to bring you the most intriguing looking panels. Remember that I don't include anything from Hall H, which is a whole other beast, although I were ever going to wait in line for three hours in the hot San Diego sun behind a dude in a Chewbacca mask who smells like feet, Friday would be the day I did it. First glimpses of the "Spider-Man" reboot, Soderbergh's "Haywire," and Nicolas Cage and Neveldine/Taylor's "Ghost Rider?" I'm ready to startin hitchhiking as soon as I finish this post.
11:00-12:00 Page One
CC2K11 Description: The opening page of a comic sets up everything that comes after it, for good or ill. Carla Speed McNeil ("Finder"), Jen Van Meter ("Hopeless Savages"), Greg Rucka ("Stumptown"), and moderator Douglas Wolk discuss great first pages of comics and the way they can instantly pull their audience in and establish the tone and themes of a story. Room 32AB
Matt's Notes: No movie connection here, but what a brilliant and unusual idea for a panel, examining sort of the comic book equivalent of our 50 Greatest Opening Titles list. The lineup features a very strong group of writers and artists and a very smart moderator (Wolk's "Reading Comics" is one of the best books you'll find on the subject).
12:45-1:45 Legendary Pictures: Preproduction Preview
CC2K11 Description: Legendary Pictures holds its first-ever Comic-Con panel and shares an early look at some of the movies on the company's upcoming film slate. Fans will be able to access Legendary's plans, garner sneak peeks at their movies in preproduction, and hear from filmmakers and cast members from the upcoming "Pacific Rim," "Seventh Son," "Paradise Lost," and "Mass Effect." Panel participants include Jeff Bridges, Bradley Cooper, Guillermo del Toro, Ben Barnes, Charlie Hunnam, Idris Elba, Alicia Vikander, Alex Proyas, Sergei Bodrov, Travis Beacham, Mark Protosevich, and Casey Hudson. Room 6BCF
Matt's Notes: I have no idea why this panel, with that impressive roster of celebrity guests, is in Room 6BCF and not Hall H, but take advantage of it (get there early, though; there's sure to be a line). We already told you about the "Mass Effect" announcement but I'm most interested in "Pacific Rim," Guillermo del Toro's upcoming monster movie starring Hunnam and Elba, which promises kaiju battles on an epic scale. Also it's not too early to start talking about Elba's character name in that movie: Stacker Pentecost. Stacker. Pentecost. Awesome.
3:30-4:15 The Military in Film
CC2K11 Description: The Armed Forces of the United States have been featured in film and television over the last century. How does the real military support the entertainment industry? U.S. Army Lt. Colonel John Clearwater ("Avengers," "Hawaii Five-O"), U.S. Marine Corps Lt. Colonel Jason Johnston ("Battle: Los Angeles," "Avatar"), U.S. Navy Lt. Michael Smith ("Battleship," "NCIS"), U.S. Air Force Lt. Colonel Francisco "Paco" Hamm ("Transformers," "Iron Man 2"), and U.S. Coast Guard Commander Sean Carroll ("The Adjustment Bureau," "Deadliest Catch") offer an in-depth discussion and Q&A session. Moderated by U.S. Air Force veteran Jon Huertas, actor on ABC's "Castle" and HBO's "Generation Kill" and chairman for SAG Armed Forces Task Force. Marriott Hall 2, Marriott Marquis & Marina
Matt's Notes: Another appealingly unusual panel. The U.S. military has a very strong presence in San Diego which suggests the turnout and the audience questions will be good and interesting.
6:45-7:45 RiffTrax Live
CC2K11 Description: Michael J. Nelson, Kevin Murphy, and Bill Corbett (RiffTrax.com, "Mystery Science Theater 3000") return to Comic-Con to perform another live, hilarious riff to a classic short! Join the riffers for fun, laughs, and the latest news about their upcoming "Jack the Giant Killer" live show, a one-night event playing in select movie theaters nationwide in August. RiffTrax.com is the site where "MST3K"-style humor meets mainstream movies, TV shows, and vintage shorts. At RiffTrax they don't make movies, they make them funny! Room 6DE
Matt's Notes: Though own I plenty of both their releases, I've still never seen Rifftrax or Cinematic Titanic (the two offshoots of the old "Mystery Science Theater") live. If you're at Comic-Con you get a chance to see one of their shows (albeit a short one) for free. I wouldn't hitchhike across the country for this one like I would "Ghost Rider 2," but if I was in town I wouldn't miss it.
7:45-8:45 Klingon Lifestyles Presentation
CC2K11 Description: When a diplomatic mission to Bajor goes awry, the crew of the IKV Stranglehold find themselves going through the looking glass to a world that is different from what they know. All life forms and alien cultures are welcome to the latest episode in the ongoing adventures of life aboard the Klingon vessel Stranglehold. Room 6A
Matt's Notes: We went to this one year to shoot a little of it for a TV special we were making about Comic-Con and it did not disappoint. The Klingons put on a whole "lifestyle" presentation including, as I recall, a dramatic production of a Klingon play. The whole thing was mesmerizingly weird; it was so inside baseball that even when they weren't speaking Klingon, it was like listening to people talk in another language. And then after the panel's over, you can mingle with the Klingons and take pictures with them and have them insult you for being a puny, stupid, smelly human, which is hilarious.
9:00-10:00 Worst Cartoons Ever
CC2K11 Description: Jerry Beck (Cartoon Brew) once again compiles a new selection of the most terribly written, ugliest drawn, and unintentionally funniest animated films ever made. Cartoons include Mighty Mr. Titan (a physical fitness superhero) and Super President (a one-man weapon of mass destruction)! Room 6BCF
Matt's Notes: They had me at physical fitness superhero.