The discerning film nerd's guide to Thursday at Comic-Con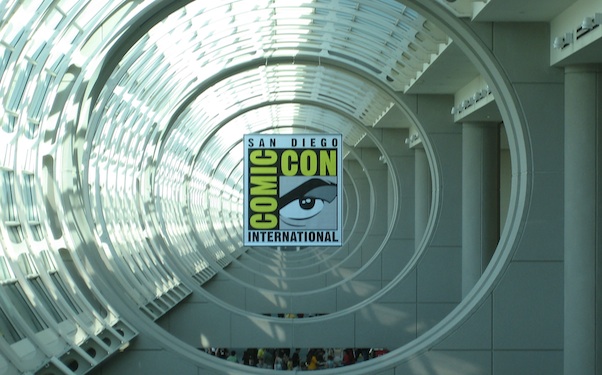 Posted by Matt Singer on
Comic-Con 2011 is just two weeks away. Our man on the video game beat, Evan Narcisse, already told you about Legendary Pictures' plan to talk about the "Mass Effect" movie in San Diego, now I've got what I'm calling The Discerning Film Nerd's Guide to Thursday at Comic-Con. If you're going, and you've got taste close to mine, these are the events you're going to want to check out.
My only rule when suggesting panels to attend was to leave out anything in the Convention Center's mammoth Hall H. If you want to see something in there — and on Thursday the events range from a presentation on the final two "Twilight" movies to a conversation between Jon Favreau and Guillermo del Toro — you'd have needed to start camping out roughly four months ago. If you're gonna do Hall H at Comic-Con you're basically going to lose your whole day, so plan accordingly. This suggested schedule, then, won't give you include the biggest events, but following it will allow you to see more and do more. Plus you'll be able to follow everyone's bitching about "Twilight" on Twitter anyway, so you really won't miss anything.
You'll also see some occasional overlap between events: realistically only the Multiple Man could attend everything on this list. But I'm giving you options. Going to Comic-Con is a gift. A smelly, ironic T-shirt wearing, lightsaber-swinging gift. So spent it wisely.
10:30-11:30: Spotlight on Joyce Brabner
CC2K11 Panel Description: "Is she the glacial, humorless activist as portrayed in the film "American Splendor: or just the person who published the first comic on the Internet? Come hear Comic-Con special guest Joyce Brabner talk about her latest projects, including finishing the work of her late husband Harvey Pekar and dealing with his legacy. Room 8 "
Matt's Notes: I'm a huge fan of both the "American Splendor" movie and comics and I'd love to hear about the unfinished work Pekar left behind. And if you saw the "American Splendor" movie you know Joyce is just as much of a character as her late husband, and will surely give great panel.
12:45-1:45 DC Comics: Grant Morrison
CC2K11 Panel Description: Comic-Con special guest Grant Morrison, one of the most inventive writers in comics today, discusses his work in and out of comics, including the highly anticipated "Action Comics" #1, coming in September from DC Comics, his new nonfiction book, "Supergods: What Masked Vigilantes, Miraculous Mutants, and a Sun God from Smallville Can Teach Us About Being Human," and recent acclaimed titles like "Joe the Barbarian." Don't miss this chance to hear one of comics' most distinctive voices as he talks about his work from superheroes to the cutting edge of comics. Room 6DE
Matt's Notes: If you're unfamiliar with his work, Morrison's one of the smartest and craziest writers in comics. His recent work on Superman ("All-Star Superman") and Batman ("Batman," "Batman and Robin," "Batman Inc.") has revitalized both concepts with bold new ideas and a clear understanding of the properties' histories. His new "Action Comics #1" is part of DC's line-wide relaunch and will almost certainly be worth a read. I interviewed Morisson at Comic-Con a few years ago and found him to be an even smarter conversationalist than he is a writer. The man understands comics better than basically anyone on the planet. If he's talking about something, you should listen.
4:00-5:00 Masters of the Web
CC2K11 Panel Description: Some of the most prominent and influential film pundits on the web discuss the film industry, writing for film online, film fandom, and a whole lot more. Panelists include Peter Sciretta (Slashfilm.com), Anne Thompson (Thompson on Hollywood), Jen Yamato (Movieline.Com), Scott Beggs (FilmSchoolRejects.Com), Sasha Perl-Raver (Movieweb.com), Vic Holtreman (Screenrant.Com), Jenna Busch (Moviefone), and Mike Sampson (JoBlo.Com), hosted by John Campea (AMC Theatres). Room 5AB
Matt's Notes: In all the years I went to Comic-Con I was too busy working red carpets and film junkets to attend this, but I always wanted to, mostly because from what I understand it always devolves into people screaming and yelling at each other for an hour. This year, for example, you might see someone take a shot at host John Campea from AMC Theatres about the aborted release of "Hatchet II," which became a big kerfuffle on the Interwebs for a few days. All in all, sounds like a good time to me.
6:00-7:00 Masquerade 101
CC2K11 Panel Description:This overview of fan convention costume competitions covers various genres of costumes, a brief history of masquerades, how contests differ from one type of convention to another, and judging processes, plus costume fabrication and stage presentation tips for taking your costume creation from beginning concept to stage-ready spectacle…and have fun doing it! Presented by Comic-Con Masquerade director (for the past 20 years) Martin Jaquish, Masquerade assistant John Ruff, award-winning fan costumerAllan Lavigne, and award-winning member of the HCC cosplay group Judy Grivich. Room 5AB
Matt's Notes: What can I say? I love when nerds play dress-up.
7:00-8:00 Writing Movies for Fun and Profit
CC2K11 Panel Description: Meet Thomas Lennon ("Reno 911!," "The State," "I Love You, Man") and Robert Ben Garant ("Reno 911!," "The State," "Bob's Burgers"). Sure, you love their cult TV shows, but the movies they've written —  "Night at the Museum" I & II, "The Pacifier," etc — have made over a billion dollars at the box office. Their new bookWriting Movies for Fun and Profit will teach YOU the secrets of the studio system and everything you need to know to break into the film biz and start earning piles of money by SELLING OUT. Join them for an informative and irreverent Q&A. Room 5AB
Matt's Notes: How much you will learn about screenwriting from this panel I cannot say. But you will certainly laugh. Plus Lennon and Garant have been coming to Comic-Con for a long time and they know the place well. You can even ask them about cosplay; I once bumped into them on the convention floor in costume on the occasion of the "Reno: 911!: Miami" movie. They stayed in character the whole time.