Exclusive premiere: The Deer Tracks "Fra Ro Raa / Ro Ra Fraa"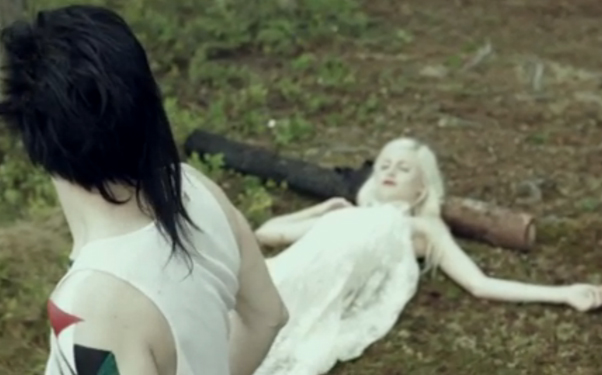 Posted by Brandon Kim on
Swedish duo, The Deer Tracks, made their eyelash heavy debut at SXSW this year, bringing their brand of "Northern Lights Electronica" to the US with the first part of their "Archer Trilogy." David Lehnberg and Elin Lindfors recorded the three part work at Lindfors' grandmother's cabin in the woods with no phones and only their imaginations to distract them.
"If you're locked up in a studio where everything is perfect and there's no wind or rain blowing in to destroy the recording — if you don't push the boundaries — it's gonna sound like you're not trying to do something that's real," Lehnberg said. "But if you lock yourself up in a cabin in the woods, things start to happen. You'll start to find your way back to your inner core, back to life." Also, that way the elfin Lindfors could take breaks frolicking in a nearby stream, returning to the cabin refreshed and "soaking-wet to record."
Glimpse the two of them in their natural habitat, in a piece they call "Fra Ro Raa / Ro Ra Fraa," off their, "The Archer Trilogy Pt. 2."
video player loading
.
.
.
Fra Ro Raa? Let us know in the comments below or on Twitter or Facebook!