"The Dark Knight Rises" gets its first teaser poster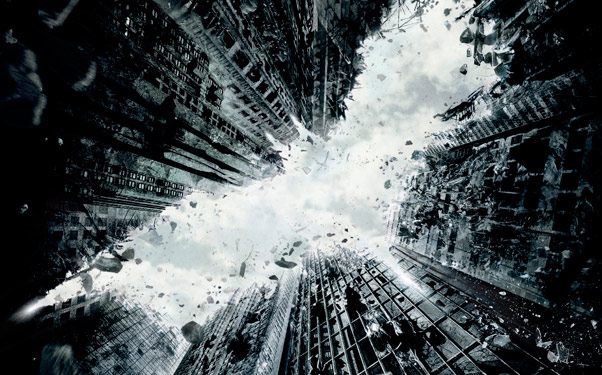 Posted by IFC on
On Monday, the official site of Christopher Nolan's third Batman movie, "The Dark Knight Rises" released the first official poster image for the July 20, 2012 flick.
While previously released images showed off Tom Hardy ("Inception," "Bronson") as Bat-villain Bane, the new image doesn't feature any of the film's impressive cast, opting instead to focus on atmospherics. The image allows fans a look up through a set of crumbling skyscrapers that just so happen to form the shape of the iconic Batman symbol.
With its crumbling urban visuals, the poster is reminiscent of Nolan's "Inception," which makes sense seeing as that movie made a veritable balls-load of money last year. But in the new teaser image, that look is very clearly being filtered through the dark, gritty, cool grays of Gotham.
Returning cast members for the film include Christian Bale as Batman/Bruce Wayne, Michael Caine as butler Alfred, Gary Oldman as Commissioner Gordon and Morgan Freeman as Lucius Fox. Those gents will be joined by the aforementioned Hardy as Bane, Anne Hathaway as Selina Kyle (Catwoman's alter ego), Joseph Gordon-Levitt as a Gotham policeman, Marion Cotillard in what sounds like a possible romantic interest and others.
See the full poster below:
What do you think about the new teaser image? Are you already itching to see the flick? Let us know in the comments below or on Facebook and Twitter.