The 10 least realistic cowboy movies of all time (with video)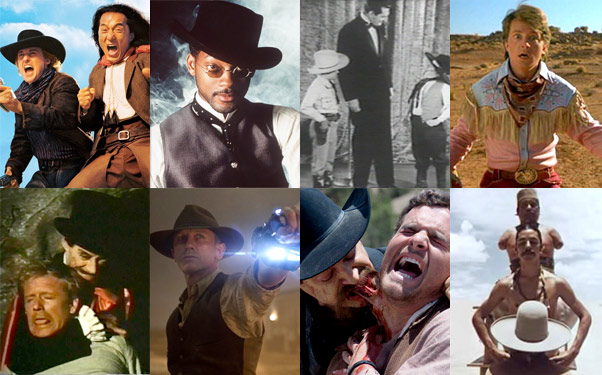 Posted by IFC on
The American West was a strange, tragic and occasionally hilarious place, especially in the world of film. From "True Grit" and "Shane" to "Westworld" and "Blazing Saddles," movies have thrown just about everything they can muster at cowboy-hatted icons like John Wayne and Yul Brynner.
2011's "Cowboys and Aliens" is hardly the first movie to mix Western elements in with science fiction or ridiculous monsters. For almost as long as Hollywood has been making movies about lawlessness and bandits, filmmakers have been finding ways to make the West weird. So while we do tip our Stetsons to Mel Brooks, Mary-Kate and Ashley Olsen and every other innovator of the cowboy movie genre, these ten films burned new brands onto cowboy stories as an institution and truly set themselves apart as the most surreal buckaroo films ever made.
---
10. "The Terror of Tiny Town" (1939)
Before "Oklahoma!" and "Cannibal! The Musical" set the struggles of the early American frontier to music, director Sam Newfield and a cast of little people imagined a world where tall folks didn't exist and a town united in song to combat a shorter-than-average villain. It's vintage post-Vaudeville Hollywood at its most entertaining, and nothing like it has been made since.
---
9. "Shanghai Noon" (2000)
Owen Wilson looked like he was trying to pull off an encore performance of his role from "Bottle Rocket" in this comedy directed by Tom Dey. The difference this time around was the presence of his co-star Jackie Chan. Pretty much any stunt that Chan pulls off on-screen looks surreal, but the least believable part of this movie is that Lucy Liu can't save herself. That plot point alone places this movie in a parallel universe.
---
8. "Undead or Alive: A Zombedy" (2007)
If you spend money to see one zombie cowboy experience in your lifetime, buy the "Undead Nightmare" downloadable content for Rockstar Games' "Red Dead Redemption." If you have cash burning a hole in your pocket and absolutely must see Chris Kattan fight off zombie hordes in the old West, well, "Undead or Alive" is going to be your only choice. It should be noted that we have no sympathy for anyone who subjects themselves to this kind of torment.
---
7. "Cowboys and Aliens" (2011)
The most recent release on our list earned its place from its title and premise alone. Harrison Ford by himself should be enough to ward off a settler-kidnapping alien invasion (you've seen "Air Force One," right?). But oh no. Director Jon Favreau gave Daniel Craig some high-powered energy weapon capable of shooting down alien ships. If aliens were smart enough to explore the cosmos and find other inhabited planets, they should at least know better than to challenge James Bond and Indiana Jones.
---
6. "Wild Wild West" (1999)
Trust us, "Wild Wild West" only gets more absurd if you ever hear Kevin Smith talk about the giant spider from the film that almost ended up in the Superman movie he nearly wrote. A lot of the zany machinery that appears is mechanical and steampunky, though, which why it got pushed into the lower five picks in this lineup. The music video it inspired, however, is the reason why we ranked it above "Cowboys and Aliens."
---