"Tabloid" journalism with Errol Morris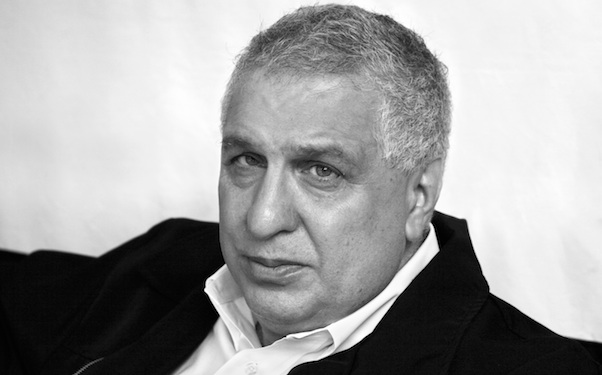 Posted by Matt Singer on
These are the very last words on my audio recording of my interview with Errol Morris, spoken by the director himself:
"You can say I hate movies. What's there to like?"
What's there to like? Well, for one thing, there are Errol Morris movies. The Oscar winning director of "The Fog of War," "Gates of Heaven," and "The Thin Blue Line," makes singular first person documentaries, touching, hilarious, and sometimes shocking films about truth, lies, and everything in between. His new movie is "Tabloid," the crazy life story of Joyce McKinney, the model and pageant girl who fell in love with a guy who chose to leave her for a Mormon youth mission to England. Or was he brainwashed? Joyce thinks so. Either way, she followed him, and so did rescues (or kidnappings), kinky sex (or innocent love), and malicious (or accurate) reporting of it all by the British tabloids.
To McKinney, it was a grand love story. To the British tabloid press, it was true crime, as lurid as it gets. As Morris tells it, it's both; a crazy story and a crazy film, one the director captures in uproarious (or is it moving?) detail with his inimitable in-depth interviews.
So why does Errol Morris hate movies? That came later. First we talked about "Tabloid," and what Morris thinks of his subject's continuing campaign to discredit (or drum up publicity for) the film. We also touched on how Morris thinks his tabloid story compares to the one currently engulfing News International, and his long-awaited return to fiction filmmaking. That intriguing sounding project is yet another reason not to hate movies, even if Morris claims that he does.
If you had planned it for months or years through careful and unscrupulous phone tapping, could you have picked a better week to release a movie called "Tabloid?"

Do you think it helps?
Yeah, absolutely. You don't think so?
I don't know. I really don't know.
Obviously your story takes place two or three decades ago, but do you think your film still reflects some of the values of journalism that caused this massive scandal?
There are certainly elements in common. But there are also disparate elements. What's going on in Britain and News of the World, that's not a problem with tabloid journalism per se. I would call it beyond tabloid journalism; beyond journalism period. It's journalism run amok, with no interest in truth or accurate, faithful representation of any underlying reality. It's journalism for the sake of creating sensation and selling papers.
Words are funny. You apply a word to something and suddenly it takes on all kinds of significance. News of the World was a "tabloid" newspaper, it covered what we take to be "tabloid" stories. But there are things about tabloid journalism that I love. It's not that unscrupulous part, it's the fascination with certain stories that are bizarre and peculiar. That part of tabloid journalism, I think, is unendingly interesting. Taking a tabloid story, or a story that just might be discarded as a tabloid story and looking behind it and discovering some depth that might not have been apparent at the outset is what my movie is all about. It's a tabloid story that was covered by the tabloid newspapers as "a tabloid story." But I like to think it's something more.
There are a couple hallmarks of all your films, but certainly fascinating and unusual characters are something audiences have come to expect from you. How did you find Joyce?
Joyce was an AP wire service story which involved dog cloning and the possibility that Bernann McKinney, the woman who cloned her dogs, might be Joyce McKinney, the woman who was at the center of the "sex in chains" tabloid story thirty years ago. And that was the beginning of it.
I was just lucky. I think there are stories that kind of by their very nature attract interesting characters. And the characters in this are just fantastic. Each one of them. Peter Tory [reporter, Daily Express]. Kent Gavin [photographer, The Mirror]. Jackson Shaw [Joyce's pilot]. Dr. Hong [the scientist who cloned Joyce's dog]. It's fantastic.
You recently said on Twitter that Joyce was the best subject you ever had. Why is that?
She's an amazing interview. For someone like myself that specializes in first person storytelling and first person accounts, I'd never really seen anything quite like it. She was really funny, she was really smart, she was really crazy, she was really entertaining. It's hard for me to imagine a better interview than the interview Joyce gave me. That's all done in a day, and that's kind of jaw-dropping.
The whole interview with her is done in one day?
One day. I've only met Joyce three times. I appeared on stage with her in New York at the Skirball Center [at DOC NYC last fall] and then I appeared with her on stage Saturday night [after a preview screening] for over an hour of Q & A which was, in itself, really amazing. I've done a lot of interviews over the years and a lot of what I would consider to be remarkable interviews. But Joyce is way the hell up there.
How do you feel about her coming to screenings and trying to rebut parts of the film she doesn't like?
I'm fine with it. I've never had a problem with Joyce coming to screenings or talking to her onstage after the screenings. It's peculiar because she has been so hostile at times, not directly to me but to others involved with this movie. But given what went on onstage Saturday night, it was not hostile. It was friendly and it was interesting. And yes she was unhappy with this and unhappy with that, like why I put the tabloid journalists in the movie. Well, they're part of the story. I can't help that. That's not my fault. I would be remiss if I didn't put them in. It's not as though we take whatever they say to be gospel truth. Far from it. They give us ample evidence that the story was in part constructed to sell newspapers. There was a circulation war.
We had a conversation about people laughing at her in the movie. This is in front of the audience there. [I said] "Joyce, when you say that a woman can't rape a man because 'it's like putting a marshmallow in a parking meter' you know that's funny."
It's a great line.
It's a great line.
So why is she upset when people laugh at it?
I don't think she really is, to tell you the truth. She knows she's funny.
Have you ever had a similar situation happen to you where you were interviewed by a journalist and you felt like they hadn't told your story properly?
Yes I have, certainly. It's like a game of telephone. You pass on a piece of information from one person to another person to another person, the chances are it's going to get changed around in the process.
We all have ways in which we like to see ourselves, narratives that we have created about ourselves. There's always room for some kind of disagreement. Most of my experiences, I would say 95% of my experiences with journalists, have been really good. The exceptions are few and far between.
I've been writing for The New York Times for the last three plus years, and so I do a lot of interviews on the phone. Actually I prefer doing them on the phone. It's part of the style of what I do. I'm not doing the familiar journalistic trope of "Mr. X adjusted his toupee," or, "He was wearing green Sansabelt pants." There's none of that physical description. It's a pure conversation. And the transcriptions of the conversation are invariably long, and they have to be edited and reduced to something more manageable in size. So I handle that by editing the material and then giving it back to the person that I've interviewed and asking them if it's okay. Someone told me "That's crazy! You can't do that." But I do do that. The interest isn't in blindsiding somebody, it's actually capturing them. It's a different kind of idea, I guess.
The one question I was left with after the film was over was how does Joyce have the money to do all these things?
You and me both, by the way.
[laughs] She takes these wild trips abroad, she pays private bodyguards and pilots, and then later she clones her dog! None of that stuff is cheap.
They asked her that same question at the screening on Saturday night, and her answer was that she had been in an accident and she had gotten a settlement. But what the details of any of that might be, I don't know. I mean she's travelled all over the country! She's appeared at festivals in Seattle, San Francisco, Austin, New York, and Sarasota. She's been a lot of different places.
Do you have any interest in making another fiction film?
I'm about to, with Ira Glass. It's a story first reported on "This American Life" about the first cryonics freezing.
And are you writing and directing it?
The script was written by Zack Helm, who wrote "Stranger Than Fiction."
Have you been looking to get back into fiction for a while or was it really this project that caught your eye?
I liked the story. It's one of the best episodes of "This American Life." Quite remarkable. It's a tabloid story, kind of.
Okay we've got to wrap it up. Before I go: what's the best documentary you've seen this year?
Have I seen any this year? I'm not even sure what I've seen.
How about in the last twelve months?
I'm not sure what I've seen. It becomes a blur what I have and haven't seen. I've been watching so many feature films this year that I don't even know how many documentaries I've actually seen.
All right, I'll take a favorite feature film then.
[Long pause] What am I trying to imagine? Then of course there's the question do I even like movies? Maybe I don't like movies, maybe that's it. Maybe that's why I don't see any of them anymore.
Why don't you like movies anymore?
I went through years and years of obsessive movie watching. Now I watch them and I'm not sure why I watch them. Certainly not for entertainment. It's usually in connection with something that I'm writing. Maybe it's just that my interest in film keeps changing. I'm still very much interested in making movies. That should count for something.
"Tabloid" opens in limited release this Friday. If you see it, we want to know what you think. Tell us in the comments below or on Twitter and Facebook!