British prop designer beats the Lucasfilm Empire, can still make Stormtrooper helmets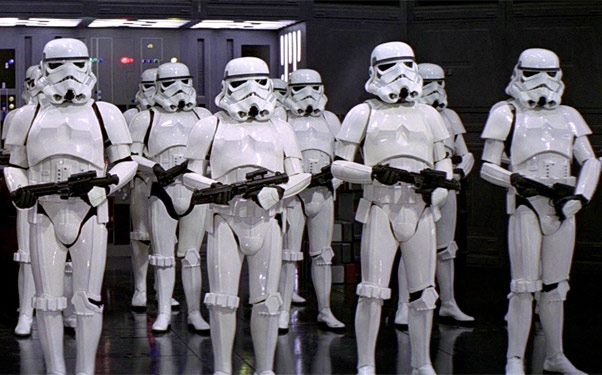 Posted by Aubrey Sitterson on
Way back in the mid-1970s, before "The Phantom Menace" was even a twinkle in George Lucas' eye, Andrew Ainsworth made the headgear that would become the legendary Stormtrooper helmets in the very first "Star Wars" film. Now, over 30 years later, he's secured his rights to keep making replicas of the helmets in his native United Kingdom.
Ainsworth had earlier been sued for violating copyright law in the United States, losing a $20 million dollar lawsuit to Lucasfilm. But as copyright and intellectual property laws contain notorious gray areas that vary from country to country, a similar lawsuit in the UK produced a very different result.
Reuters has picked up that the country's Supreme Court has "ruled that the replicas were not covered by copyright law because they were not works of art." This ruling comes after similar ones in both the UK Court of Appeal and the High Court. Interestingly though, the court did recognize that Lucasfilm's copyright had been violated in the United States, due to differences in intellectual property laws.
While Ainsworth is barred from exporting his replicas to the United States, he is free to make and sell them in the United Kingdom as well as ship them off to a number of other locales, including Australia and Singapore. If you ever thought about becoming a greymarket "Star Wars" replica dealer, now looks like it might be a good time.
Lucasfilm had announced a commitment "to aggressively protecting its intellectual property rights relating to Star Wars in the UK and around the globe through any and all means available to it, including copyright, trademark, design patents and other protections afforded by law." Their suit stands in contrast to the countless "Star Wars" fan films produced over the years, although the company reportedly keeps a hands-off approach to those as long as they aren't commercial.
What do you think about the UK ruling? Should Ainsworth be allowed to profit off the Stormtrooper helmets he originally designed, or should that right be reserved only for Lucasfilm? Let us know below or on Facebook or Twitter.