Spike Lee returns to his role from "Do The Right Thing"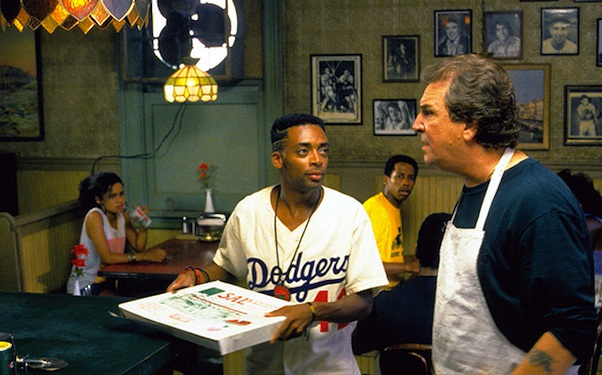 Posted by Matt Singer on
Unless I'm mistaken, Spike Lee has never made a sequel to one of his fiction films. He might not call his new film a sequel but Blackfilm.com reports that technically it is, since it features the return of one of Lee's signature characters from one of his signature films.
Earlier today, Lee tweeted that he was going into production on "THE NEW SPIKE LEE JOINT," his first fiction feature since 2008's "Miracle at St. Anna." Blackfilm says that the movie is called "Red Hook Summer" and that:
"Details on the plot is limited, but a close source has informed us that the story centers on a adult from Atlanta who comes and spends the summer in Red Hook section of Brooklyn, NY. The kicker to this story is that Lee will be reprising his role as Mookie, the character he played over twenty years ago in his most famous film, 1989′s 'Do the Right Thing.'"
Mookie, as you'll recall, is the central character of "Do the Right Thing," who works as a delivery man for the local pizza joint where scalding summer temperatures and smoldering racial tensions explode into a full-on race riot after the police beat and murder a black teenager. Here's a scene from the film:
I love "Do the Right Thing" and I'd be very interested to see where Mookie wound up, twenty years later (apparently the answer is Red Hook). I'm on board with just about any Spike Lee film (I was one of the few folks who liked "Miracle at St. Anna") but a sorta-sequel to "Do the Right Thing" sounds fantastic. I'm hoping Blackfilm's "close source" is really close and really right on this. I'm crossing my fingers for Rosie Perez's dance moves to make an appearance too.