Spike Jonze toys with the Beastie Boys in an awesome new video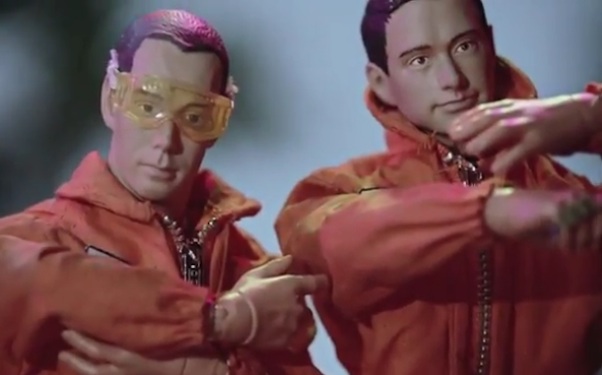 Posted by Matt Singer on
Yesterday I was at the offices of Oscilloscope Labs for an interview with "Bellflower" director Evan Glodell we'll publish in a couple weeks. O-Scope is the film distributor owned by Adam Yauch — aka MCA of the Beastie Boys — and the whole place was littered with what I quickly realized were the props from the Beasties' new video "Don't Play No Game That I Can't Win," their first collaboration with director Spike Jonze — the mastermind of their great "Sabotage" video — in over a decade.
That was yesterday. Today, the video premiered on YouTube. And here it is. In keeping with the title of the track, it sees Jonze playing games with action figure versions of the Beastie Boys and Santigold.
There were all kinds of stuff from the video around the Oscilloscope bullpen, but the two items I got the best look at were the yeti's helicopter and especially the Beasties' submarine, which was sitting in the middle of (and taking up a hefty portion of) the office floor. It looks impressive in the video; in person it was really rough and very DIY. The rocket launchers on the side were actually painted pieces of poster tubes. I wanted to fiddle with it so badly, but of course that would have been a game I could not win.
What's your favorite Spike Jonze / Beastie Boys video? Tell us in the comments below or on Facebook and Twitter!