Shia LeBeouf and Marilyn Manson: two beautiful people, together at last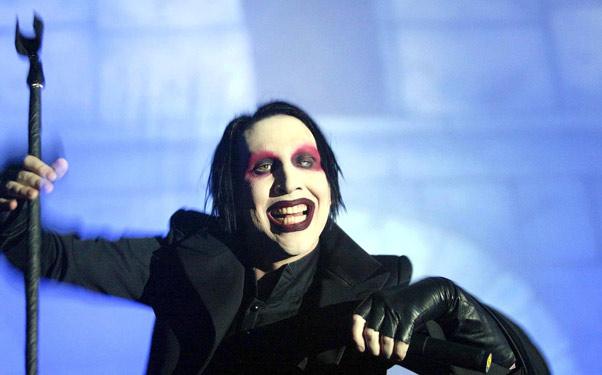 Posted by IFC on
With "Transformers: Dark of the Moon" already making a veritable ballsload of money in theaters, Shia LaBeouf will be celebrating like anyone else who just starred in one of Hollywood's biggest franchises: By making a documentary about a shock rocker who peaked about 15 years ago.
LaBeouf, who, as what we imagine was an adorably goth 9-year-old, probably got in a fair bit of trouble for singing the words to "Cake and Sodomy," announced on "Live with Regis and Kelly" that he'll be shooting a documentary about the making of Marilyn Manson's new album, the first since 2009's "The High End of Low."
The fine folks at Blabbermouth picked up on the news. According to the site, on the show LeBeouf described his meeting with Manson, who "lives in West Hollywood above a liquor store," opened the door wearing a "big pink kimono" and brought the young "Transformers" star into his completely dark lair, where they watched movies and talked about his "eccentric ideas."
This won't be LeBeouf's first dalliance with the music world, however, as he previously worked on the video for Kid Kudi's "Marijuana" as well as Cage's "I Never Knew You." To get an early sense of the tunes to which LeBeouf will bring his incomparable vision, check out the teaser below from "an undisclosed song with an unreleased title."
Is this the creative union of two Beautiful People or is it just as crazy as it sounds? Let us know below or on Twitter or Facebook.