Schwarzen-Watch: Arnold's comeback is back.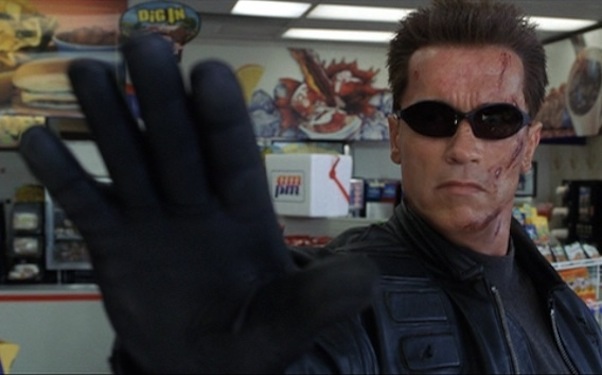 Posted by Matt Singer on
IFC.com's film writer, Matt Singer, is the biggest Arnold Schwarzenegger fan on the planet. He blogs any time any news about Schwarzenegger's return to acting, no matter how flimsy or improbable, hits the Internet.
For Arnold Schwarzenegger fans, spring of 2011 was a time of great excitement — with Arnold prepping two different films and an autobiographical animated series — and then a time of crushing disappointment on multiple levels, when all those projects were put on hold in the wake of Schwarzenegger's paternity scandal.
It's been almost two months since our last Schwarzen-Watch update. Since then, the Schwarzen-Watch offices have been hushed in funereal silence, but now, courtesy Nikki Finke at Deadline, comes a ray of hope. Finke reports that Schwarzenegger's comeback will finally commence this September with the film "Last Stand," which will also mark the English-language directorial debut of Kim Ji-woon, the brilliantly talented Korean filmmaker behind the revisionist Western "The Good, The Bad, the Weird" and this year's sadistically entertaining serial killer thriller "I Saw the Devil." That is an unlikely and exciting pairing of cinematic titans, like when Hulk Hogan and Macho Man got together to form the Mega Powers.
So what's "Last Stand?" And why the hell isn't there a "The" in the title? Here's what one Lionsgate executive told Finke:
"It's an old-fashioned Western specifically designed for a 63-year-old broken-down guy with a moral decision whether Arnold decides to stand up for his town. We always needed an iconic figure for it."
And here's how Kim Ji-woon described the project to ComingSoon.net last Februrary, back when Liam Neeson was still attached to star (he throws the otherwise missing 'the' into the title):
"My concept for 'The Last Stand' is that it's kind of a combination of 'Die Hard' and 'High Noon' where (the latter) was about protecting something very important that needs to be protected, while 'Die Hard' is a very drawn-out, long process that almost kills someone in the process, so my film will be something that has to be very well protected and in the process, we almost die protecting it in a way."
Sounds a little similar in subject matter to "Cry Macho" one of the lost Schwarzenegger revival projects, which also about a broken down older guy who musters his courage and strength for a one-last-hurrah type of mission, in that case to kidnap and then protect a child. "Last Stand" has simpatico end-of-the-West themes but without the orphaned kid component which, after a, y'know, well-publicized paternity scandal, was probably not something Schwarzenegger was all that hot to deal with. Finke reports the budget for "Last Stand" at $30 million, which, if true, would be Schwarzenegger's most modestly sized picture in decades. Another interesting wrinkle in this most interesting comeback. I just hope nothing derails it this time. Please, Arnold: do not father anymore children. My sensitive heart just can't take the strain.