How "Crazy Stupid Love" stars Ryan Gosling and Emma Stone are saving Young Hollywood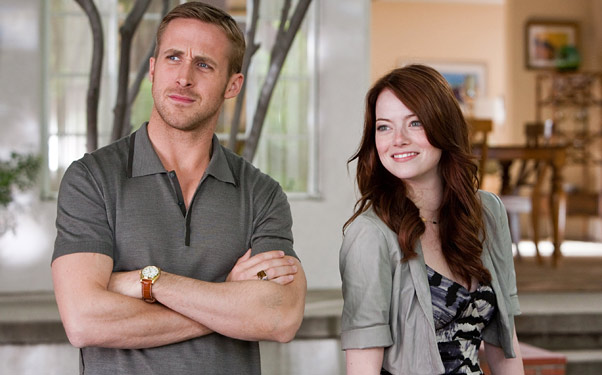 Posted by IFC on
Over the past few years, a looming question that's plagued Hollywood has been, "Where have all the movie stars gone?" But, even more recently, the debate has shifted to the other pressing query, "If there are still movie stars left, what even makes one? What constitutes a movie star?" The first one can be answered, in the simplest terms, in that we are living in an era where both talent (Angelina Jolie and Brad Pitt) and non-talent ("The Real Housewives of…Forget It, Now We Can't Move There") alike are overexposed and once reliable, bona fide movie stars have turned into unrecognizable, and often times, unlikable versions of people we used to know (Mel Gibson, Tom Cruise.)
To answer that second question, however, gets a little trickier. For those who still believe the movie star exists, it comes down to simple dollars and cents–how much does the actor or actress bring in at the box office — while others see it as famous people who haven't tainted their image because of their pristine personal lives (Tom Hanks) or have a built-in brand of movies that will likely draw audiences no matter what (Johnny Depp, Will Smith.)
Still, that is a crop of stars who have been around for quite some time. While this generation has been lucky enough to grow up with plenty of talented other A-listers like Leonardo DiCaprio, Kate Winslet, and the, late, great Heath Ledger, who left an immeasurable void in Hollywood, I couldn't help but ask the question of, "Does this generation — my generation — have any stars to claim for their own?"
The uber-popular celebrities in the 2000s were sacred for many, but equally maligned for just as many others (the "Twilight" and "High School Musical" kids), while those who possessed a genuine talent, had too much of a reluctance of their fame for us to want to get attached to them (Jesse Eisenberg, Ellen Page.) Perhaps the worst offenders were those who had the combination of mass sex appeal, buzz, and genuine hits to make them into our generations movie stars, but didn't have the self-control (Lindsay Lohan) or humility (Shia LaBeouf) to actually make it happen. It seemed, for some time, we were going to be an era without a crop of talent to call our own.
Then, like a beacon of hope in the form of enviable abdominal muscles and faux ginger hair, came our saviors: Ryan Gosling and Emma Stone. Sure, it's not as though the two, who star in this weekend's romantic comedy "Crazy, Stupid, Love," are coming out of the gate and suddenly surprising everyone with their charms, good looks, and knack for effortless acting (he is already an Oscar-nominee for his work in the gritty drug drama "Half Nelson" and she has settled nicely into her role as a female comedic voice in film, thanks to flicks like "Easy A") but the vehicle serves as a reminder that they really are, finally, ours to brag about.
In "Crazy, Stupid, Love," Gosling plays Jacob, a rich Lothario who falls for Hannah, Stone's character, a headstrong law student who sees through his act. Left in the hands of other young stars, the storyline could have felt contrived or downright predictable, but both actors, who have scorching chemistry to boot, never make the blooming love story feel inauthentic. In one of the movie's best moments, Gosling and Stone's characters spend the night talking and getting to know one another. The scene never feels gimmicky or with forced sentimentality and, in turn, the audience falls in love with their falling in love.
Then again, if you're familiar with Gosling and Stone's body of work, you've been falling for sometime. Gosling, 30, who got his start alongside fellow stars like Justin Timberlake and Christina Aguilera on the Mickey Mouse Club has managed to shed the teen heartthrob image (though, not entirely, due to the massively popular 2004 romance flick "The Notebook") and, thanks to some major indie cred, become the most promising actor to come along in, well, ages. Gosling's essential movies — the aforementioned "Half Nelson," as well as "Lars and the Real Girl," "The Believer," and "Blue Valentine" (arguably his best performance to date as a broken man trying to survive love in the tough, true-to-life drama)–all have one common thread: He transforms entirely into these rich, complicated characters. You're watching Gosling, but you never actually see him.
But, it's not just the talent that solidifies Gosling's spot as our go-to guy. Rarely the subject of tabloid fodder, Gosling has managed to keep his personal life — even including a high-profile romance with ex Rachel McAdams — separate, but without being a Hollywood recluse. While promoting "Crazy, Stupid, Love," Gosling made the rounds to talk shows and did what so few stars do in the midst of a press tour: He had fun with it. From reenacting a scene from "Dirty Dancing" with Al Roker on the Today Show to bringing his Mohawk-ed pooch to Jimmy Fallon's couch, it was evident that Gosling is a serious actor who doesn't take himself very seriously.
She may not have the same stigma of dramatic actor attached to her the way Gosling does, but Stone, who is equally refreshing on-screen an in real life, has come up against her own challenges. The 23-year-old has spoken honestly and candidly about the pressure on women her age in Hollywood to look a certain way (Stone refreshingly shot from the hip when she criticized fad diets to Vanity Fair and carries the burden of being the funniest female on the big screen. Still, she's handled that pretty well thus far thanks to her Golden Globe-nominated turn as a wrongly accused high school slut in last year's "Easy A," as well as holding her own in the boys club that was 2007's "Superbad," and kicking ass and taking undead names in 2009's "Zombieland."
Still, it seems as though all of this, including "Crazy, Stupid, Love," is nothing more than the beginning for Gosling and Stone. A precursor of even more great things to come. In addition to this year's "Drive," Gosling has a bevy of exciting projects–mainstream and otherwise–including a remake of "Logan's Run" and then opposite Sean Penn and Josh Brolin in "The Gangster Squad." Stone is equally busy–this year especially–as she can be seen in three movies this summer, including "Friends with Benefits" and the highly anticipated adaptation of the bestseller "The Help." Forgoing any unforeseen scandals or major casting missteps, neither of them are going anywhere any time soon, and that is the best news Hollywood– and a generation of jaded moviegoers–could have gotten in quite some time.
Perhaps the reason why "Crazy, Stupid, Love" could mark the turning point in their careers is not just because of their sweet, sexy storyline, but how much their characters echo why they are this generation's greatest assets in the first place. Gosling plays a sickeningly handsome dude that all the ladies love and all the guys want to emulate (including co-star Steve Carell, who plays his ladies man apprentice) because both sides know there's way more than what's on the surface. Stone plays a woman that is both parts strikingly beautiful and attainable, with an attitude that is sweetly no-nonsense and has a throaty laugh that invites you to do just the same.
It seems Gosling and Stone may have just answered the biggest question of all: Where have you been all our lives?
Are you fans of Emma Stone or Ryan Gosling? Tell us why in the comments below or on Twitter or Facebook.