Roberts Blossom, the old man from "Home Alone," dies at 87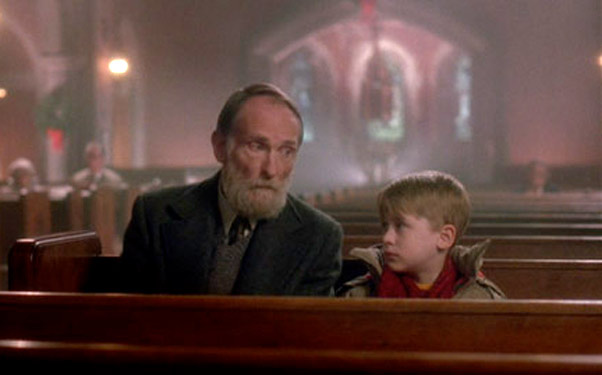 Posted by IFC on
Roberts Blossom seemed like an immortal spirit on the McCallister family's block in "Home Alone." In his "Boo Radley"-styled role as the mysterious old neighbor Marley, Blossom created one of the film's most memorable characters, which makes it all the more sad to read that the actor has passed away at the age of 87, according to the Los Angeles Times.
Blossom famously used his shovel for more than just distributing sidewalk salt, much to the dismay of the Wet Bandits (Joe Pesci and Daniel Stern). But he also gave their Oscar-nominated Chris Columbus film a heart and moral center with a touch of humanity as he talked to Kevin (Macaulay Culkin) and made things right with his family.
In the scheme of grisly old man characters, Blossom knew how to wear some facial hair and light up a scene as well as anyone. He even had the Obie and Soapy awards to prove it, thanks to his work on stage and television.
Nothing against Brenda Fricker, who played the bird lady in "Home Alone 2: Lost in New York," but Blossom will always be the definitive creepy old adult for us in the "Home Alone" franchise.
Kevin McCallister has lost an unlikely ally, and we've all lost a brilliant actor capable of drilling a hole through your head with his hyper-alert, bug-eyed glares. So here's to Roberts Blossom. Thanks for your work in everything from "The Last Temptation of Christ" to "Chicago Hope" and "Doc Hollywood." And here's to bringing a shovel down onto a head as hard as anyone in the history of film.
Leave your own tribute to Roberts Blossom in the comments below or on Twitter or Facebook.