Comic-Con: "Rise of the Planet of the Apes" clip shows what happens in a world without bananas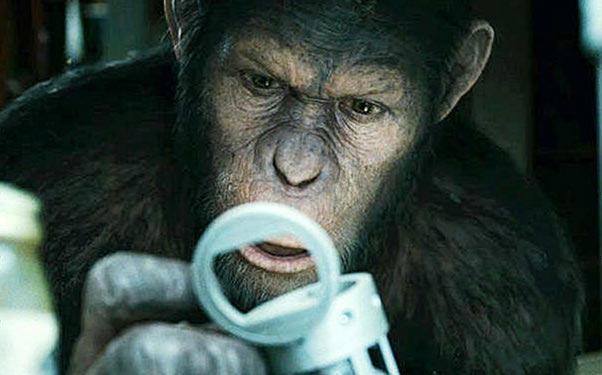 Posted by Rick Marshall on
We know that Comic-Con is a friendly place for all manner of super-powered heroes and villains, but apparently the same holds true for super-intelligent apes, too.
20th Century Fox has released the new "Rise of the Planet of the Apes" teaser it put together for Comic-Con, and the promo clip that debuted online at Fandango offers quite a bit of new footage from the upcoming film. A reboot of the popular five-film franchise produced between 1968-73, "Rise of the Planet of the Apes" tells the story of the apes' rise to power on Earth — a shift that would eventually lead to a world in which humans are no longer the dominant species.
In the teaser, we see the aftermath of what happens when test-subject ape Caesar (played by Andy Serkis using motion-capture technology) develops an intelligence far beyond that of his fellow apes and decides he's had enough of occupying a lower rung on the evolutionary ladder. After freeing his fellow apes, Caesar and his army take to the streets, causing no small amount of damage in their wake.
In the film, James Franco plays scientist Will Rodman, whose experimental cure for Alzheimer's first grants Caesar his accelerated IQ.
"Rise of the Planet of the Apes" is intended to be the first in a new franchise of films chronicling the war between humans and apes. In the original series of films, 1972's "Conquest of the Planet of the Apes" told a similar story, though director Rupert Wyatt has repeatedly indicated that this won't be a remake of that film.
Fans of the original series should take heart, though, as Wyatt and others involved with the film have teased that there will be more than a few call-outs to the original "Planet of the Apes" saga. In one example, "Harry Potter" actor Tom Felton was cast as a character named Dodge Landon — a reference to the names of the two astronauts, Dodge and Landon, who found themselves on ape-dominated Earth in the 1968 film that started it all.
What did you think of the "Rise of the Planet of te Apes" footage? Chime in below or on Facebook or Twitter.