Am I nuts or are "Rise of the Planet of the Apes" and "Project Nim" the same movie?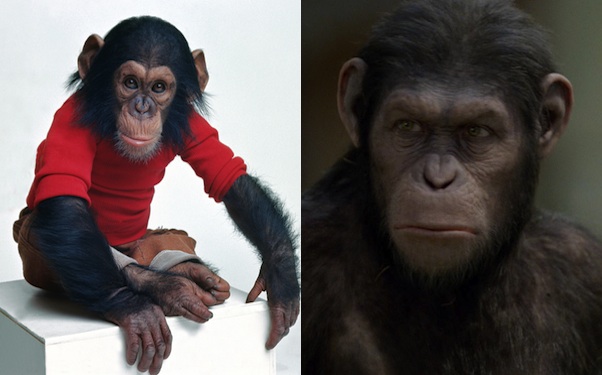 Posted by Matt Singer on
Granted, one is fiction and the other is a documentary. Granted, one ends with apes enslaving humanity and royally pissing off Charlton Heston. But having seen the latest trailer for "Rise of the Planet of the Apes," which opens next month, I'm becoming increasingly convinced that it's just Hollywood's big budget remake of James Marsh's fabulous documentary "Project Nim," which is now playing in select theaters.
Here's that trailer for "Rise of the Planet of the Apes:"
And for comparison's sake, here's "Project Nim"'s trailer:
Off the top of my head, here's what they've got in common:
1) A scientist makes a chimpanzee baby the subject of a potentially revolutionary science experiment.

2) The scientist gives the chimp baby to someone he trusts to raise it.

3) The chimp baby's guardian treats it as a member of the family, rather than as a pet.

4) Humans teach the chimp baby sign language.

5) Humans marvel at the chimp baby's intelligence and progress with language.

6) Humans force the chimp to wear clothes.

7) Humans leash the chimp and take him on nature hikes.

8) The chimp matures into adulthood and is considered too dangerous to live with humans.

9) The chimp is taken to live in a science laboratory.

10) Some of the people who work in that lab are assholes.

11) Having lived his whole life with humans, the chimp has difficulty acclimating to primate society.

12) The story imparts the moral that animals are not human and treating them as such
can have disastrous consequences for all parties.
Even the trailers' intertitles are interchangeable. "WHAT STARTED AS A BREAKTHROUGH / HAD EXTRAORDINARY SIDE EFFECTS" could just as easily be about "Project Nim;" "IN THE NAME OF SCIENCE / IT WAS UNCHARTED TERRITORY / AND IT MADE HISTORY" could be about "Rise of the Planet of the Apes." I mean, yes, this is speculative science fiction, but any time man is subjugated by orangutans, that to me is history in the making.
See another similarities between these two tales of monkey business? Tell us in the comments below or on Facebook and Twitter.