A Harry Potter Fan Puts a Spell on Rhett & Link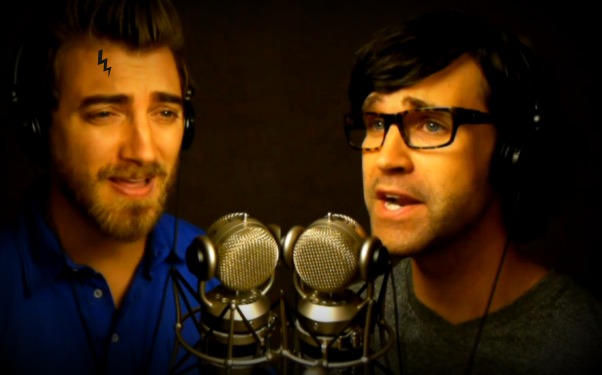 Posted by Melissa Locker on
Before Rhett & Link were starring in "Commercial Kings" they were just two best friends putting out local commercials on YouTube. Now that they have made it to the big time, they haven't forgotten the little people who populate YouTube with their heartbreaking confessions, exuberant dance performances, how-to guides, and, of course, the girls braving mosquito-plagued fields to state their undying love for Harry Potter while their over-sized dogs lick themselves in the background. So when Rhett McLaughlin and Link Neal stumbled across a girl who was lost and alone in the outer reaches of the internet as she grappled with a maelstrom of emotion over the premiere of "Harry Potter and the Deathly Hallows, Part 2" and the end of a franchise, they knew they had to help. The dynamic duo swept into to lend not just a hand, but their voices to the girl so she could find the words she needed to bid farewell to Harry, Hermione, and Ron.
Watch the magic happen and whisper to yourself, "This is amazing." Then, let's all pitch in and buy her some mosquito repellant and a Pottermore.com pass:
video player loading
.
.
.
New episodes of "Rhett & Link: Commercial Kings" air on IFC on Fridays at 10 p.m. ET