R-rated comedies rating highly at the summer box office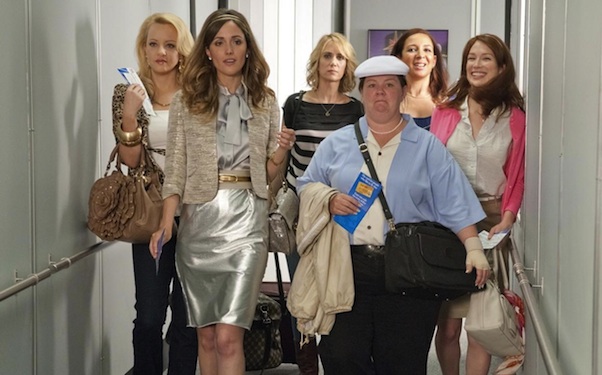 Posted by Matt Singer on
At Badass Digest, Devin Faraci has a piece entitled "The Summer of The R-Rated Comedy," declaring that the success of movies like "The Hangover Part II" ($250.8 million and counting), "Bridesmaids" ($158.1 million and counting), "Bad Teacher" ($78.7 million and counting) and the just released "Horrible Bosses" ($28.1 million in its opening weekend, better than the family-friendly "Zookeeper") means that "R-rated comedies are back in a big way."
"The story coming into Summer 2011 was that we had a whole bunch of superhero movies on deck; well, none of those have really set the world on fire (although 'Thor' has done okay), but it's the quiet legion of R-rated movies that have really cleaned up.
This was something I was considering too as I looked over the weekend's box office chart. On Friday, I was listening to local radio, and several DJs who have a sort of fantasy box office league, betting on which movies will open the biggest, were discussing the weekend's releases. The unquestioned given amongst all three guys was that "Zookeeper" was going to be the highest grossing new movie of the weekend, and that it would flatten the competition. That didn't turn out to be the case; it made $21.0 million to "Horrible Bosses" $28.1. Now you might say that had something to do with marketing, or star power ("Zookeeper" had just Kevin James on the poster; "Horrible Bosses" had Jennifer Aniston and Colin Farrell and Jason Bateman and Kevin Spacey) or the fact that "Zookeeper" looked carcinogenically bad. But "Paul Blart: Mall Cop" had all of those problems in 2009 and became a surprise hit. So maybe there is something to this R-rated renaissance.
When comparing this particular batch of R-rated comedies, it may be worth nothing something else about them: these are not R-rated movies aimed at teenagers. These aren't stories about teenagers getting laid, or teenagers going to college and getting laid, or college kids who get laid off on a wacky road trip, getting laid. These are all films about adults; immature, foul-mouthed adults, yes, but adults all the same. They're not sex comedies. And right now there aren't a lot of mainstream options out there for adults in theaters. If you don't want Terrence Malick or Woody Allen, you either take an R-rated comedy or risk date night on super-heroes or animated talking cars or pandas.
I guess we should also acknowledge that these films, are, to varying degrees, all pretty good too. We might to be having this discussion about "Bridesmaids" if it wasn't funny and smart about female relationships, or about "Horrible Bosses" if the film didn't have a pretty crackerjack murder/revenge plot. "Bridesmaids" has been a huge word-of-mouth hit; by now it's $26.2 million opening is just an unusually low 16% of its total gross ("Pirates 4" opening weekend, for example, accounts for 38% of its total gross). But again: "Paul Blart: Mall Cop" was a massive hit. So you never know.
Faraci says the lesson of this summer is to "be cheap. Make the movies cheaply and you will make a profit on them." As I wrote last week, Hollywood studios have already started taking the advice, thanks to comedies' weak box office overseas. And just to throw a little cold water on this whole R-rated comedy renaissance, let's consider how these movies have done internationally. With the exception of "The Hangover Part II" (everyone loves a face tattoo joke), they're not anywhere near as successful in foreign countries as they are here. Despite being the biggest surprise hit of the summer in the United States, "Bridesmaids" has made just $48.5 million abroad. Some of its grosses are crazy low. It made only $37,342 in Iceland. Come on Iceland! "Horrible Bosses" hasn't opened internationally yet, but "Zookeeper" has; when you combine domestic and foreign box office together, it's made more money than "Horrible Bosses." Cue ominous dramatic music.
So it's the summer of R-rated comedies here. Everywhere else, it's pretty much the summer of "Transformers" and "Pirates 4." Which means there's a very good chance this summer won't be endless.