Exclusive Premiere: The Goldberg Sisters "Erik Erikson"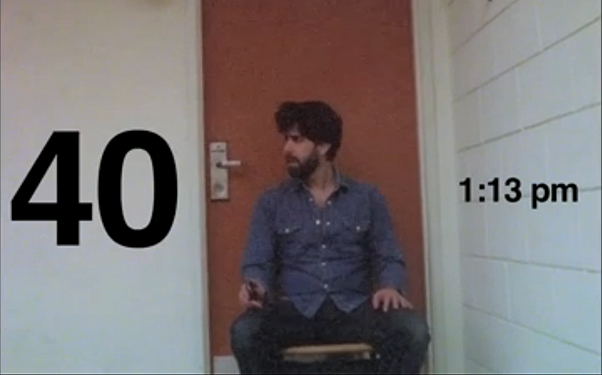 Posted by Brandon Kim on
Adam Goldberg was once a young, handsome, multi-talented actor, musician and director. The last time I spoke with him he was fresh off the completion of a 16mm elegy for The Goldberg Sisters's song "The Room." He was prolific, witty, some would say muscular, and his whole life was ahead of him. But, as you'll see in the Warholian video for this track with a killer riff, "Erik Erikson," he's now turned 40.
Viewers sensitive to images of developmental psychologist Erik Erikson, imposing fonts, or those with anxiety about what stage of psychosocial development they're stuck in, should hit play with caution.
video player loading
.
.
.
Erikson is best known for giving us the concept of identity crisis and his theory of the psychosocial stages of development — which have clearly haunted Adam Goldberg, who's been an existential psychoanalysis fanatic since high school (See "Dazed and Confused"). "I found a journal entry recently," Goldberg told me. "I was a senior in high school…. pining over an unrequited romance or rather, at the time, I think it was requited, but I was ambivalent, according to this entry dated 3/11/88 12:29 A.M." The entry read, "It is odd, yeah, yeah, Erikson is really right: you can't have a relationship — or a successful one or a satisfying one — if you don't like yourself."
Clearly, Goldberg was grappling with what Erikson would call, Intimacy vs. Isolation, well ahead of the normal developmental schedule. Fast forward to the year 2000 and Goldberg writes this song, "Erik Erikson" about prematurely experiencing the last of Erikson's "stages of life" (Integrity vs. Despair) at the age of 30. Now, another decade later, he updated the track for release on The Goldberg Sisters.
For the developmentally curious, the landmark age of 40 is marked by Erikson as the Generativity vs. Stagnation stage. A sense of stagnation, an unproductive lull is often felt when entering midlife. Those who perceive that they have failed to achieve anything, and continue to stagnate through their 40's, feel stuck and eventually sink into despair. Even alpha types who were incredibly successful, who seemingly sprung effortlessly through life, a career and fame, may find it all catching up with them and suddenly feel burdened. What was it all worth? Is this all that I am?
Others, like Goldberg (who let's face it, has been living anxiously the whole time) take this opportunity to create art, to "generate" more — which is why he'll surely ascend to Erikson's last stage with integrity. Here we see him about to turn 40 complete with numerical evidence. He sat down in a chair and waited for it (and filmed it with a 16mm camera along with his iPhone). "And much like life," he said, "nothing happens."
In the spirit of developmental evolution, here's the decidedly Sonic Youth-inspired, scratch track Goldberg recorded at home. It's spare, raw promise, compared to the salvo of overlaying guitars and pedal lust that made the final track on the album:
Hey, what developmental stage are you in? Let us know in the comments below or on Twitter or Facebook!