Exclusive premiere: Spindrift "Hellbound (Theme from Dust Up)"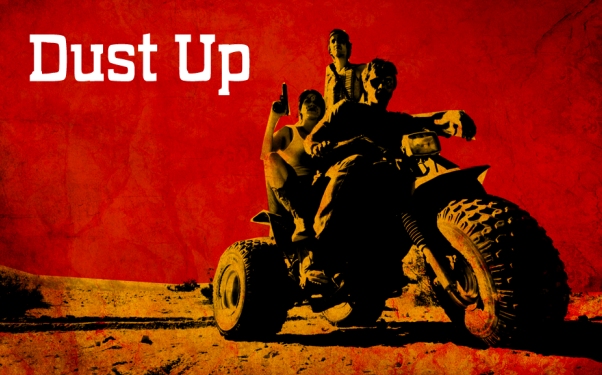 Posted by Brandon Kim on
The latest video in Spindrift's ongoing homage to Spaghetti Western scores from their "Classic Soundtracks Vol. 1," also doubles as a title sequence for the independent modern Western craziness, "Dust Up." The film follows Ella, played by Amber Benson ("Buffy the Vampire Slayer"), along with a Native American hipster, a lizardman, and a generally wild cast of characters, through an action comedy set in the middle of the Mojave desert.
Just when you thought the band couldn't get any stranger than scoring an obscure 60's film by rogue director J.X. Williams, about female aliens bent on turning everyone gay… all right, maybe that is stranger than this, but "Dust Up," featuring Spindrift's western psychedelic soundtrack, looks like it's set to be a freaky cult classic and gory cartoon rolled into one. Working closely with Director Ward Roberts, Spindrift have just finished scoring the entire film in the studio with desert pals Gram Rabbit.
"After viewing 'The Legend of God's Gun,' I knew in my soul Spindrift was destined to do the music for "Dust Up" Robert's told us. "Three years later the score is complete and I'm absolutely thrilled with the results. Kirpatrick Thomas and the band have taken the film to a whole new level of mind-melting twisted fun that is sure to delight all." Expect to see "Dust Up" out sometime in 2012.
video player loading
.
.
.
Ready for Spaghetti?! Let us know in the comments below or on Twitteror Facebook!