Exclusive Premiere: Chiodos "Notes In Constellations"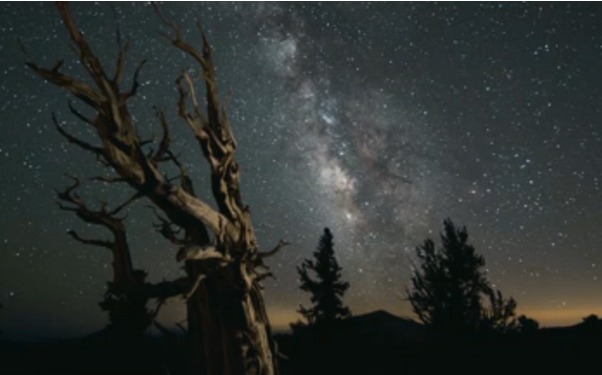 Posted by Brandon Kim on
Chiodos vocalist Brandon Bolmer wrote this song about the untimely heath of an old friend and musical collaborator of his, Christopher Olsen — nicknamed Notes. "I had started writing the song years ago, on a trip up to the snowy mountains of Big Bear, CA with my girlfriend, her sister, and Notes," Bolmer explains. "The song was originally written about two lovers who were forced to part ways from one another. After his death, the song took on a dual meaning and became a song that Notes could have written for his girlfriend after he passed on."
The video by young directors, Ryan Southwell and John Stephens, inspired by this sad back story, weaves a tale about two lovers who are separated by a tragic death — but still with each other through the stars.
No CGI or post effects were used in the filming of the heavenly time lapses you are about to witness, they are completely organic, in a cosmic sense. Southwell and Stephens used a new, multi-axis, motion control technology to shoot them outdoors.
video player loading
.
.
.
The Los Angeles based directors have been shooting together for several years, but this is only their second official music video. "We shot all of the band performance footage against a green screen in L.A. and comp'd in all of the lighting and backgrounds in post. We shot the female narrative at a loft in L.A. and on the streets downtown," co-director Stephens explains. "We shot the astro time-lapses at various locations in California over a period of several nights — all of the time-lapses are 100% real — nothing is CGI or was comp'd in post." After talking about the concept with Bolmer they decided to explore the star lover theme fully and create a distorted sense of time using the time-lapse and a lot of slow-motion. "It's about losing someone you love and coming to a belief that they're still with you in the stars," Stephens affirmed.
"Notes In Constellations" is off of Chiodos' third album, "Illuminaudio." The band, formed in 2001, stormed the American post-hardcore scene in 2007 with "Bone Palace Ballet" which debuted at number one on the Independent Chart (and number five on the Billboard top 200). "Illuminaudio" is actually the debut for singer Brandon Bolmer, replacing former frontman Craig Owens in the band, after a bit of a shake up following the wild success of '07. The band plans to show fans that although the singer's have changed, their haunting melodies and huge vocals remain. They will embark on a short headlining tour which kicks off in Milwaukee this weekend before joining in on the 2011 Scream It Like You Mean It tour.
Do you believe in love among the stars? Let us know in the comments below or on Twitter or Facebook!