Exclusive premiere: Ariana Delawari "Be Gone Taliban"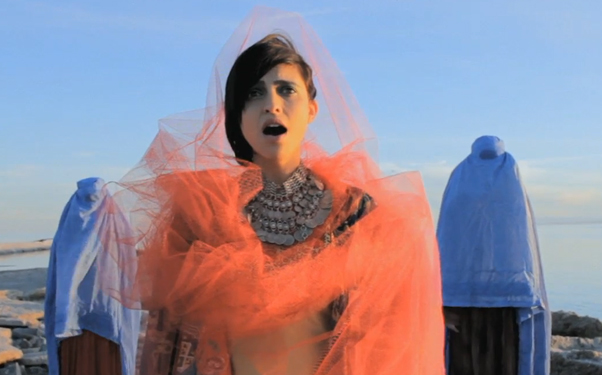 Posted by Brandon Kim on
Afghanistan, ancient central hub of the silk road and the crossroads between the Middle East, Asia, and the Indian subcontinent, though overrun by one foreign empire after the other, is a mountainous land shrouded in mystery whose people have never truly been conquered by any of their occupiers. Everyone from the Mughals, to the British, the Soviets, and most recently the U.S., have faltered in there. It was Pashtun warriors in Afghanistan who wounded Alexander the Great — nearly cutting short his infamous campaign to name every city clear across the known world into India, after himself, in the 4th century BC. But the people of Afghanistan are now overrun by radical elements of their own making, in the Taliban (though a Pakistani element cannot be understated either).
Afghani-American singer/songwriter, Ariana Delawari, recorded most of her debut album, "Lion of Panjshir," at her parent's home in Afghanistan during the deteriorating spring of 2007. She wanted to take the opportunity to make a record there before the country could destabilized again. "I had the feeling that things were shifting — that I may never have the chance to record there again," Delawari said. A few months later she was jamming with her bandmates and three old Afghani musicians on instruments long stashed away and hidden from the Taliban — who had banned music. Really, who does that!?
Delawari finished "Lion of Panjshir" in Los Angeles, with the help of David Lynch on mixing duty. The album is out on David Lynch Mc / Manimal Vinyl. This video for "Be Gone Taliban" was directed by Delawari herself, to be both a fantasy and allegory for the plight of women under the radical Islamist group's oppressive belief system. "When we recorded this song I imagined it as a modern ballet.," Delawari said, "I wanted the video to celebrate everything the Taliban has attempted to destroy — music, art, women, dance, and the future of Afghan girls."
Watch as she transforms from a woman, given no voice, into a thing of beauty and raw expression that would make a Taliban's head explode.
video player loading
.
.
.
Have anything you'd like to say to the Taliban? Let us know in the comments below or on Twitter or Facebook!