Watch an exclusive clip from the excellent French action flick "Point Blank"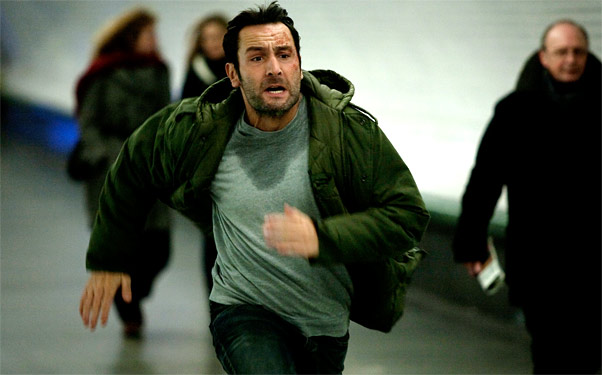 Posted by Brian Jacks on
At the 2011 Provincetown Film Festival I had the opportunity to screen "Point Blank," a high-intensity, kinetic French action film that mirrors "Taken" with its basic plot, but adds in considerably more intrigue and an against-the-system undertone.
The movie follows a nurse (Gilles Lellouche) who decides to save the wrong patient, a petty thief who's being hunted by a mysterious cabal. With their target locked safely inside the hospital ward, a gunman storms the nurse's apartment and abducts his wife, forcing him to escort the wounded man through police protection and deliver him to an outside location.
From there begins a mile-a-minute chase through Paris as the nurse is thrust into a deadly cat-and-mouse game, racing across town to save his wife, dodging assassins and a team of corrupt police detectives. The action is fast-paced and exciting, and the movie doesn't pull any punches when it comes to killing (sometimes shockingly). It's well worth watching, and we're happy to present an exclusive clip featuring the man and the patient whose hide-out has been raided by the law enforcement bad guys.
video player loading
.
.
.
"Point Blank" opens in limited release on July 29. For a full list of play dates, click here.
Will you be checking out "Point Blank"? Let us know below or on Facebook or Twitter.