Our favorite Comic-Con tweets: Day 2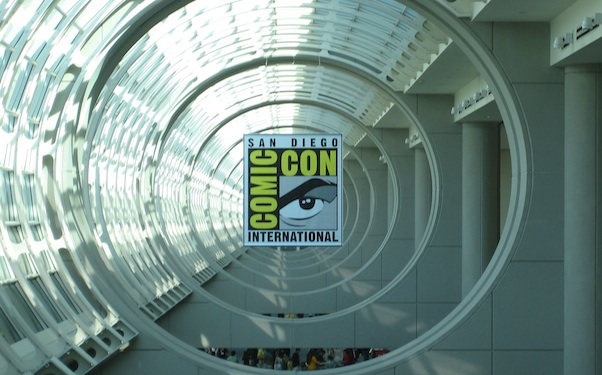 Posted by Matt Singer on
Throughout the week, IFC News is hunting through Twitter for the best tweets from Comic-Con. Here are our favorites from Day Two; feel free to share yours below:
danbialek: In the past 45 minutes I've seen more cubic feet of spandex-ensheathed super hero gunt than most people see in a lifetime. #sdcc
michaeljnelson: Comic-Con tip for the ladies:"try some tranya from my pewter horn" is not a double entendre. He has home-brewed tranya in his pewter horn.
mousewords : #ComicCon view from the eyes of a short person. Pardon me now while I have a panic attack. http://twitpic.com/5u6f5s
mjdee: I've waited my whole life for Shadow Weaver figure. *wipes tear* http://t.co/H0rK5gG
tdfangirl: A very smug Batman just walked by. Gotta say, it ruins the effect when your mullet is sticking out the back of your cowl. #sdcc #ubersdcc
Coughing_Colors: Who wants to trade sex for a #SDCCticket? I'll even dress as IG-88 if need be.
JGBeamer: It's too bad someone couldn't do a different kind of Con where they only had awesome stuff and eliminated all the stuff that sucks. #sdcc
razorgirl1066: Just because you're wearing headphones doesn't mean I can't hear you fart. #sdcc
BrandonRagnar: I need fog lights to see thru the fart haze. #sdcc
pajiba: The great thing about Twitter is that, even though I'm not actually at Comic Con, I can still vicariously stand in line for hours.
lindsay56: why has it taken me this long to go to #SDCC ? this is what dreams are made of.
scamboogah: Great news! Everyone who gives a shit about comic con goes to it, so you don't have to tweet about it! #Timesaver #sdcc
Spotted a great Comic-Con tweet? Send it to us in the comments below or on Twitter and Facebook and we'll include it in a future post.