Our favorite Comic-Con tweets: Prologue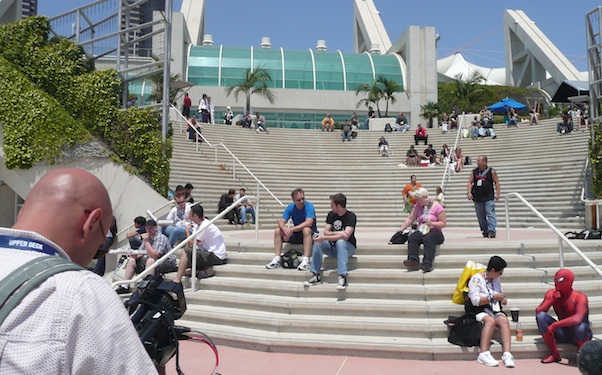 Posted by Matt Singer on
It's the most nerdiest time of the year.
San Diego Comic-Con starts today. Even though I haven't attended for two straight years, I still feel the siren song of the nerd every July, calling me back to my spiritual home in Southern California. By the way, if you're not a nerd, our siren song sounds like a tauntaun's howl mixed with a "Star Trek" phaser blast mixed with the "SNIKT!" noise Wolverine's claws make when they pop out of his arms. It's pretty awesome.
Twitter has made Comic-Con (or, in tweetspeak, #sdcc) so much better and so much worse all at once. You don't feel like you're missing out quite as badly, because seven hundred million geeks are providing constant updates. But they're also rubbing your nose in all the deliciously dorky goings-on. There's no humblebragging going on here: they're straight-up boasts about how everything is awesome, and cool, and how they're really excited to see movies that will ultimately flop and force guys like me to write thinkpieces on whether Comic-Con matters anymore.
But that's later. Now is the time when we live vicariously and jealously through those there. Throughout this week, I'll be scouring Twitter for the best and funniest tweets from and on San Diego. Here are the all-stars from Monday and Tuesday:
Kathrinecsdu: 2 more days until Comic-Con. I've already packed my superhero underoos, but do I need my superman slippers. #sdcc
JHoffman6: First report from #SDCC — it is so humid that I'm chaffing.
TheJoBloPodcast: 1st time in 4 years I'll be choosing wedding anniversary over #SDCC. No doubt I'll be stink eyeing that bitch all night long. #reallove
Twilight: Another pic from the #BreakingDawnPart1 Comic-Con line! http://t.co/PkB0yE8 (NOTE: this picture was posted Tuesday night at 8 pm — a day and a half before the actual panel!)
BitterOldJoe: There are FIFTY people in line for THURSDAY'S Twilight panel? #SDCC
LBloodfire: I am reading my appearance at #SDCC They better have nachos!
GeekGrlNTrainin: <3 seeing everyone's prepss for #SDCC...btw, I've been to the conv cntr already, and its already hot in there...let the stink fest begin.
scalzi: To my friends going to #SDCC: Hope you brought shoehorns and tactical deodorant (to apply to others). I will pray for you.
andrewrdeutsch: Just wondering if we can start calling #sdcc "Line-aggedon"?
theonetruebix: Oh, god, @Marvel. #TheAvengers eye patches? Don't people fail to watch where they're walking on the show floor enough as it is? #SDCC
mattzollerseitz: ComicCon: the Iowa caucuses of crap.
Have a favorite Comic-Con tweet? Leave a link to the original tweet in the comments below or send it to us on Twitter or Facebook. You can also email it to us at IFCfeed@gmail.com.