Does Netflix want to kill DVDs?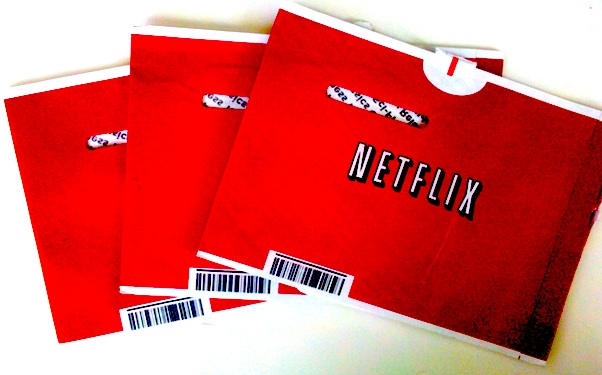 Posted by Matt Singer on
The film world is still buzzing with the news that Netflix is separating their DVD and streaming movie services and raising their prices, in some cases as much as 60% per customer. In an interview today on CNET, Big Champagne CEO Eric Garland puts forward a theory for Netflix's shift in strategy that I've heard before and discounted in a way that makes me want to reconsider it.
That theory is that Netflix split their two businesses because they want to get out of one of them, namely the DVDs-by-mail model. There are reasons why that theory made sense to me — mostly because the DVD represent the past and streaming represents the future — and a few reasons why it didn't, including the fact that Netflix's own press release on the subject claimed that they wanted to invest more resources into their DVD business, not less. So Netflix, this massive supplier of DVDs, wants to destroy half their business? The whole thing kind of sounded like a conspiracy nut's fantasy.
Garland's perspective, though, goes a long way toward explaining why Netflix might indeed want to accelerate the destruction of a big portion of their company. He even cites precedent, comparing the move to the moment when Steve Jobs and Apple decided to release a Macintosh computer without a floppy disk drive. That decision was met with widespread scorn and skepticism at the time. Now? When was the last time you even thought about a floppy disk?
So the thinking goes that Netflix is working along the same lines: killing the old to encourage the new. The counter from skeptics like me would be something like: "Netflix's streaming selection isn't deep enough to satisfy many of their customers. Won't they lose a lot of business as a result?" But Garland gives CNET a pretty devastating counter to that counter:
"Reed [Hastings, Netflix CEO] is deliberately creating dissatisfaction. He's creating dissonance precisely because that title availability, those first-run titles, needs to be available more immediately and more widely as a (video on demand) or as a streamed offering. So this is a leverage play. This is Reed saying you can't bifurcate. You're going to have to make all of your content available in a way that your customer has clearly indicated that he or she wants. Netflix is wagering that if all parties are dissatisfied; if Netflix is unhappy because Netflix customers are unhappy and if Hollywood is unhappy and if everyone is unhappy then we're going to speed the clock on new solutions. You know that theory of vine economics, you let go of the last vine (like Tarzan) and reach for the next one. If he takes away that last vine then everyone is really going to reach for the next one. That's what he's trying to do here. He's trying to remove the complacency that comes from an easy dependency on that legacy product. If you take the comfort of that DVD away that dissonance is going to demand remedy. You ask 'what about all those DVD titles? You want those movies. So does Reed Hastings. And so does every other customer and movie fan. And now the pressure under which Hollywood finds itself has been ratcheted up."
And why won't customers just flee to some other service? Well, they might, which is all the more reason why Hollywood, which has had a love/hate relationship with Netflix, might have to open up more of their libraries to streaming. Right now, the only outlet that can compete with Netflix in terms of ease of use, variety, and (even after this price hike) affordability is piracy. That might force Hollywood into a choice between offering improved content to Netflix or losing more of their customers to illegal downloads.
A provocative theory. Even if it's true, though, it still seems like a pretty risky gamble. Now that Netflix's proven the value of streaming rights online, why won't the studios start making them available through web portals they own? True, a studio-run Netflix-like streaming site would have a fraction of Netflix's content, but it could have the all-valuable new releases that many users crave (and which, by and large, aren't available from Netflix via streaming). And if the studios could play nice and pool their resources, they could really get something going.
Do they hate Netflix enough to work together? I wonder. This online movie business, man. It's murder.