Three Must-See Movies at the 2011 New York Asian Film Festival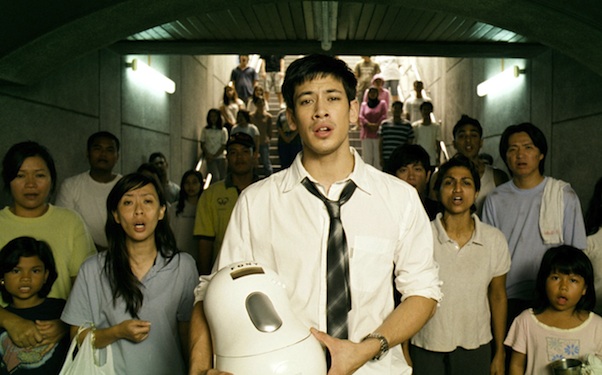 Posted by Matt Singer on
Get ready New Yorkers: the 2011 New York Asian Film Festival, two weeks of amazing (and sometimes amazingly weird) cinema, starts today at Lincoln Center's Walter Reade Theater. This year's lineup is massive, so here are a few recommendations to get you started. There are lots of other good films at the fest, but you absolutely cannot miss these three.
"Sell Out!"
Directed by Yeo Joon Han, 2008
If "Dr. Strangelove" and "Office Space" had a baby, and then that baby was raised in a karaoke bar, it might look something like "Sell Out!" a hilarious, demented, and wildly creative comic musical from Malaysia. The film opens with TV host Rafflesia Pong (Jerrica Lai) interviewing a totally nude man named "Yeo Joon Han" — a.k.a. the director of the movie we're watching — in honor of his being named the Kryzhindangzhongbushaus Village Far Easter Film Festival's Young Oversea-Chinese Women New Director's Honorary Mention Award in the category of Films Suitable for Audiences Age 70 and Above. After pretentious Asian art films get brutally and brilliantly parodied ("Why are your movies so slow?" "…"), "Sell Out!" moves on to skewer even bigger targets: braindead corporate culture, shitty customer service, and lowest common denominator reality television. Unfairly buried for three years by its Malaysian distributors, "Sell Out!" might be the most perfect satire of our cynical, celebrity- and money-obsessed times ever made. And it has musical numbers!
Playing Friday July 1 and Monday July 4 at Walter Reade.
"Troubleshooter"
Directed by Kwok Hyeok-Jae, 2010
This movie is somewhat mislabeled as part of NYAFF 2011's sidebar of Korean revenge thrillers. Only half right: there's not much revenge going in "Troubleshooter" but there are plenty of thrills in the mold of Hitchcockian wrong man adventures like "The 39 Steps." Sol Kyung-gu stars as Tae-sik, a private investigator who makes his living catching adulterers in the act. He cockily shows up at his latest gig, happily snapping away with his automatic camera, until he realizes he's been set up: there's a dead body where a couple of lovebirds should be and blood all over the floor. With the police hot on his trail, Tae-sik's got to prove his innocence and figure out who's framed him, all while also performing the tasks his mysterious blackmailer keeps sending him via cell phone in exchange for the only proof of his innocence. Luckily Tae-sik is a bad ass private eye, a master of technology and disguises who's also not bad at kicking the crap out of bad guys either. From start to finish, this is just an immensely satisfying chase movie. Winner of the NYAFF 2011 award for the film most likely to get remade as a Jason Statham vehicle.
Playing Tuesday July 12 and Thursday July 14 at Walter Reade.
BKO: Bangkok Knockout
Directed by Panna Rittikrai, 2010
From the title alone, you might want to confuse this one with a crummy Nicolas Cage flick. But once the movie starts there will be no confusion: "BKO: Bangkok Knockout" is the apogee of the Thai martial arts flick, an exploitation extravaganza against which all future Thai martial arts flicks will be measured. From Panna Rittikrai, mentor and frequent collaborator of "Ong Bak"'s Tony Jaa, comes the endearingly dopey story of a movie stunt team convinced they've been hired by big-time movie producer Mr. Sneed (!!!) to make a movie in Hollywood. They celebrate their new job with a big fancy dinner, too confident in their impending success to notice the caterers are acting a wee bit funny. Cut to the next day, and the whole stunt team finds themselves in a martial arts remake of "The Hangover," drugged, confused, and lost in a giant abandoned construction site where they're forced to battle an army of kung-fu caterers while evil millionaires wager on their lives with the mighty Mr. Sneed (!!!!!!!). There's a lot of exposition to wade through in the early going, but from about the half-hour mark on "BKO" becomes an onslaught of amazing action sequences piled one on top of the other. There are fights in cages, fights in the air, fights on dirt bikes, even fights between dudes hanging underneath speeding tractor trailers. The good news here is this movie has already been picked up for U.S. distribution by Magnet Releasing, so even if you can't make it to the New York Asian Film Festival, you'll still be able to see this one in a few months. Lucky you.
Playing Saturday July 2 and Saturday July 9 at Walter Reade.
Also recommended at NYAFF 2011: "Bedevilled" (bleak and beautiful Korean revenge thriller); "Machete Maidens Unleashed!" (Poppy documentary on the history of Filipino exploitation cinema); "Horny House of Horror" (Troma-style horror/comedy set in brutal Japanese brothel); "Riki-Oh: The Story of Ricky" (cartoonishly bloody future kung-fu campfest).
What do you want to see at NYAFF 2011? Tell us in the comments below or on Facebook and Twitter!