Miranda July discusses "The Future," voicing a cat and why adults should use their imagination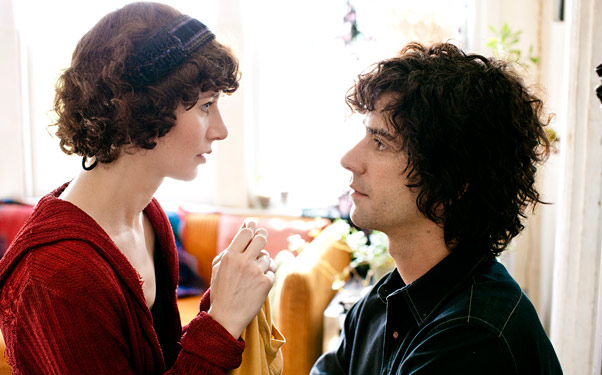 Posted by IFC on
Artist/writer/filmmaker Miranda July has been on my radar since 1999, when I discovered her spoken word album The Binet-Simon Test. It includes the track "Lena Beamish," which is about a talk show about siblings who do daredevil stunts because they can't feel physical pain. This is the sort of thing I liked listening to on my boombox as a teenager, while I lay on the floor waiting to grow older so my real life as an interesting person could begin.
July's new film, "The Future," is all about this waiting game, and the milestones we set for ourselves that we may never reach. Sophie, a dance teacher (played by July), and her boyfriend Jason (the dreamy Hamish Linklater), have been dating long enough that they're ready for the next level of commitment: they're going to adopt an injured cat (voiced by July). But Paw Paw isn't ready to come home just yet, and in the interim, the couple's life changes dramatically.

IFC: I think something you've done really well in your work is conveying the theme of growing pains. You've done it with children, and in "Me and You and Everyone We Know" with the teenage characters, and now it's the growing pains of being in your mid-thirties. It never ends.
MJ: Yeah, and you think…there's a point at which you become adult.
IFC: And you can stop projecting into when it's going to be "better."
MJ: Exactly. I do think I'm hopeful, and there is a sort of buoyancy to that, but I also am thinking the good thing is about to happen and I get there and I'm like, "Oh, this is what the good thing feels like?" I always have to remind myself: when the good thing happens, remember that you may feel bizarrely empty. (laughter)
IFC: You have symbols for growing pains, like in this movie it's Sophie's dance with the yellow shirtie, and in "Me and You" when he lights his hand on fire…and there's this idea of having to exaggerate it so that it can really reach. Even the wig in your story "Something that Needs Nothing."
MJ: Yeah, it is true that I like, especially for these ideas that are kind of esoteric, to have it be an object, or something that you can fill with meaning, and then the object is that, and you don't have to keep talking about growing or anything.
IFC: Like you give it weight and mass.
MJ: Yeah. Exactly.
video player loading
.
.
.
IFC: I like how you do so many voices. I think that's what drew me to your CDs back when I was in my bedroom as a teenager.
MJ: Yeah, so for you the cat is not…
IFC: I totally get the cat.
MJ: That's nice. When I was doing that, I was like, "What am I doing?" This is going to be confusing: I'm Sophie/I'm the cat. And a few people said, "Miranda, this is so what you do. This is connecting it to past work." And I was like, Oh…is that a good thing? But ultimately, if anyone was going to pull that off, at least it would be someone who wasn't doing arbitrarily. It comes from a real comfort. I like doing that.
IFC: I was an only child until I was eight, so I used to make radio shows and I would do all the parts…
MJ: I just found one of those tapes actually, of mine, doing the same thing: a radio show. It's really bad because I'm trying to involve my mom while she's making dinner and she's trying to cook and entertain me and…
IFC: And you were being her director.
MJ: Yeah, and she's like, "Back to you, Sam," and I'm like, "I'm not Sam, I'm Joe!" And I'm really angry and she's like, "Oh, sorry, Joe…"
IFC: Do you feel like the way you lived in your imagination then has never stopped? Like some people stop playing make-believe or playing dress-up and they grow up, and for you, you just kept performing?
MJ: To some degree that must be true, but I resist the idea that it's so childlike, because God, it takes such diligence, you know? And I would like to think that it's an adult way to be also. So I'm trying to espouse that.
IFC: That it's a skill and a craft…
MJ: Well that, but also I mean that these things, what if we thought of them as adult things? This kind of curiosity or playing, what if we shifted and thought, "Oh that's a really mature, thoughtful and appropriate thing to do." I actually think it's good for my relationships; it helps me understand myself. I think the way it's good for children, it's also good for adults.
IFC: You've said that part of your career is about forming this intimacy with your audience, and I've noticed that in how you title things for your audience, or you include your audience in your title.
MJ: I use "you" a lot. I know. I think it's because it works on me. I put this on my blog, but I had passed some graffiti that said "YOU WOULD," and I felt very called out by it. That pulled me right in. I got away from it with this title ("The Future"), but I have a book coming out in the fall called "It Chooses You." So now I'm falling back in.
IFC: I also think of your short film, "Are You the Favorite Person of Anybody?" When I heard that title, I thought, "Am I?" And then you see the movie and you're like, "Whose favorite person am I?"
MJ: I know.
IFC: Like the graffiti, it calls you out.
MJ: It's trying to use self-interest, all of our self-interest, as a tool in a way. A useful tool.
---
Leigh Stein is a writer and teaching artist. Her first novel, The Fallback Plan, is forthcoming from Melville House in 2012 and can be pre-ordered here.