Where have we seen Chicago's Marilyn Monroe statue before?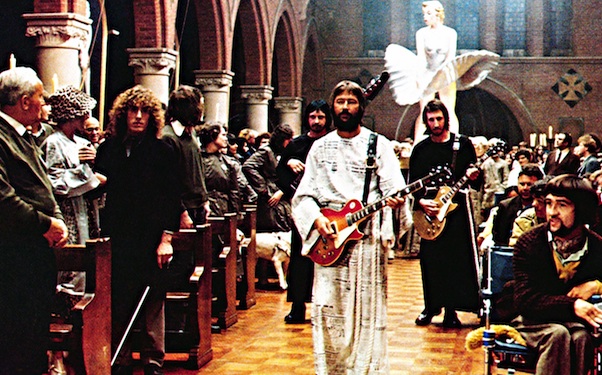 Posted by Matt Singer on
Even though the film was set in New York City, and even though it's frankly a little weird to encourage tourists to take pictures of a giant woman flashing her nether regions, Chicago has just unveiled a bizarre and enormous 26-foot tall statue of Marilyn Monroe in her signature oops-my-dress-is-caught-in-this-subway-draft pose from Billy Wilder's "The Seven Year Itch" You know the one.
Judging from the crowds in all the pictures online, people are digging the statue. But it's already putting Ms. Monroe's likeness into awkward situations. Like this one where it looks like a guy is indulging her fetish for erotic asphyxiation. Or how about this one where a man prepares to get his certification as a gynecologist by giving her a thorough his inspection.
It's all a wee bit icky. Over at The Chicago Sun-Times, Richard Roeper is not a fan:
"Even worse than the sculpture itself is the photo-op behavior it's inspiring. Men (and women) licking Marilyn's leg, gawking up her skirt, pointing at her giant panties as they leer and laugh. It's not that the sculpture is shocking or sexist or obscene — but it's definitely bringing out the juvenile goofball in many of us.

Here's hoping [sculptor Seward] Johnson's next work for Chicago isn't a re-creating of Sharon Stone's pivotal moment in 'Basic Instinct.'
Ogling glancing at pictures of this statue for hours on end ever so briefly, I felt like I'd seen this image before. And then it hit me. The Who's "Tommy." Take a look.
So now we're taking our cues for new public works from overblown 70s rock operas? What's next? A 30-foot tall Mr. Roboto in Times Square? The statue of Monroe is supposed to come down in 2012, but now I'm worried they're going leave it up for 100 years and then replace it with a scene from the album "2112" by Rush.
What do you think of Chicago's Marilyn statue? Tell us in the comments below or on Facebook and Twitter! Domo arigato.