Legendary Pictures to talk "Mass Effect" movie at Comic-Con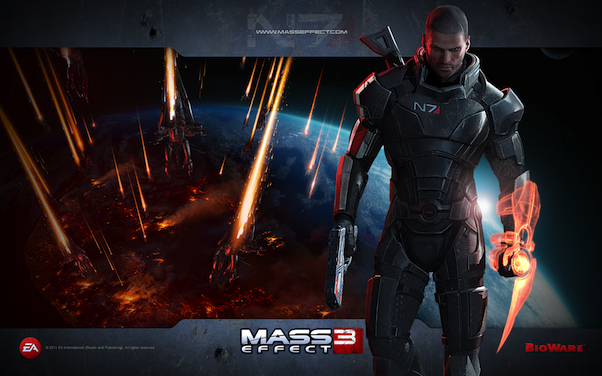 Posted by Evan Narcisse on
There's been some talk about the death of Comic-Con as an epicenter of the buzz economy. Major studios aren't spending the money and logistical capital to get directors, casts and that all-important shwag to San Diego this year. And, if you're a lifelong comics fan like me and my colleague Matt Singer, then there's some ambivalence at seeing the retreat of Hollywood powers-that-be who came to Comic-Con International to mine geek enthusiasm for their marketing efforts. On one hand, studios and stars showing up to court fanboys smells like nerd victory. But, when the flip side is a movie that underperforms or gets everything wrong about, say, Judge Dredd, all that wooing leaves a fanboy feeling cheap and used.
Nevertheless, if you want to capture the hearts of a hardcore nerd fanbase, Comic-Con's still the beating heart of disproportionately passionate pop culture enthusiasm. If you want to shore up the force of will that says a movie based on Comic Book/Anime/Video Game X needs to exist, the Hall H of the San Diego Convention Center is where you go. Legendary Pictures finds itself in a unique position for this year's Con. The production house has worked hand-in-hand with Warner Bros to make dozens of hit movies but it's the first time that they'll be presenting a slate of their own.
A panel on Friday July 22 will feature "Mass Effect" amongst the films that Legendary's revealing to Comic-Con attendees. Legendary optioned "Mass Effect" last year but it's been very quiet as to what exactly's been going on with the process. To shed some light, Casey Hudson from dev studio BioWare will be on hand to talk about the deal, along with screenwriter Mark Protosevich, fresh off the success of Marvel's "Thor." It'll be interesting to see just how much of the game trilogy's sprawling story–where player-created hero Commander Shepard's mission to stop a marauding machine race called the Reapers–will be kept for the film adaptation.
This isn't Legendary's first foray into game-related properties, as they also acquired the film rights to global phenomenon "World of Warcraft" and Epic Games' hit "Gears of War" franchise over the last few years. (Of course, neither film's shot so much as a reel of film yet. Ahem…) So a "Mass Effect" movie could still be a long ways off, but there's some cold hard facts that will come with it. Foremost amongst them is the reality that the Commander Shepard in the film will inevitably be male. If fans are lucky, then maybe MaleShep and FemShep voice actors Mark Meer and Jennifer Hale will get cameos. It may be true that everyone loves Hale as the female version of Shepard in the games. However, it's also true that putting men in charge of saving the universe is how Hollywood's power studios roll. But, if we have to have a dude hero in charge of the Normandy, I, for one, wouldn't mind Michael Fassbender as Shepard. He's got enough menace, charm and gravitas to make audiences believe he's a Paragon and/or a Renegade.
As the company's website manifesto says, the films they have in development share a "targeted focus on the powerful fandom demographic." They've got an all-new "Godzilla" in the works, as well as "Gravel," a film based off comics writer Warren Ellis' bad-ass combat magician and Guillermo Del Toro's sci-fi thriller "Pacific Rim." A giant space epic like "Mass Effect" certainly falls in line with the company ethos but it's also the kind of thing that seems unfilmable. The joy of the "Mass Effect" games comes from not just action, but the consequences of those actions. That dynamic's going to be tricky to capture in a cineplex.
Do you have high hopes for a "Mass Effect" movie? Let us know in the comments below or on Facebook or Twitter.