Jeffrey Katzenberg on recent movies: "They suck."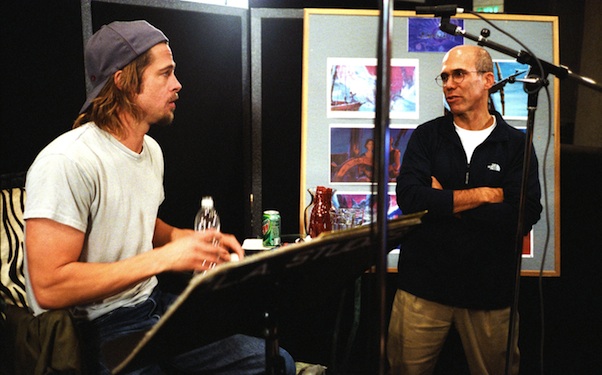 Posted by Matt Singer on
Fortune's Brainstorm Tech Conference, which is taking place this weekend in Aspen, Colorado, is "where the innovators of the Fortune 500 meet the next generation of leaders to shape the future of business." It's also apparently a place where those innovators talk pretty bluntly about the state of their industry.
One of the talks at Brainstorm Tech was a conversation between Fortune's Andy Serwer and DreamWorks Animation CEO Jeffrey Katzenberg. You can find the entire transcript and video of their half hour conversation on Fortune's website; it includes Katzenberg talking about the state of 3D filmmaking and how he first became interested in the power of animation while working at Disney. But I wanted to share just one highlight that really stuck out to me, and that came when Serwer asked Katzenberg whether he thought social media is partly to blame for Hollywood's recent struggles. Katzenberg disagreed, arguing that social media can be "valuable allies" in helping get the word out about good product. In his mind, the real problem is exactly that: a lack of good product.
"There is this sort of unholy alliance that has existed forever between art and commerce, show and biz. And today it's out of balance and it's too much on the biz, and it's too much on the commerce and it's too much on the marketability and the fact is that I'm pretty confident, and let's do it, because this is supposed to be an interactive experience here, which is could we agree? Let me have a show of hands of people that would say the last seven or eight months of movies is the worst lineup of movies you've experienced in the last five years of your life.

[A shot of the audience shows most hands raised.]

They suck. It's unbelievable how bad movies have been, right. I men, it's just I haven't seen a run of this, a crop of movies… right now today it's a particularly dreary moment."
Well at least he's honest. Hollywood this summer is the snake that eats its own tail; a lot of sub-par sequels to movies that weren't always all that great to begin with. Of the top ten box office grossers of the year, nine are either sequels, or based on comic books, or both (including Katzenberg's own admittedly well-received "Kung Fu Panda 2"). The only truly original hit amongst the top ten movies of 2011 is Paul Feig's "Bridesmaids," which accomplished all sorts of rare feats, not the least of which is the fact that it's held strong at the box office for almost three months in a marketplace dominated by bigger, flashier movies.
"Bridesmaids" is actually a good example for the way Katzenberg thinks movies should work in the Internet age. With social media you have this amazing tool for customer outreach. If something works with audiences, they're going to tell people about it on Facebook and Twitter. Theoretically, then, it should be easier than ever to make a word of mouth hit. But in practice, those types of slow-earning blockbusters are rarer than ever. Most Hollywood movies are built for that big opening weekend then disappear from theaters in a month and a half. The studios bank on brand recognition and spectacle, but those are exactly the sort of movies that generate mehs on social media. Meanwhile a movie like "Bridesmaids" with characters that resemble actual human beings exceeds expectations because people liked it and told their friends to go see it.
So y'see, Hollywood? You don't have to spend two hundred million dollars on prints and advertising. Reinvest in talent and let the fans do the work for you. Then maybe things will start to suck less.
Has this year at the movies been as bad as Katzenberg claims? Tell us what you think in the comments below or on Facebook and Twitter.