Comic-Con: Steven Spielberg says another "Jurassic Park" sequel coming within three years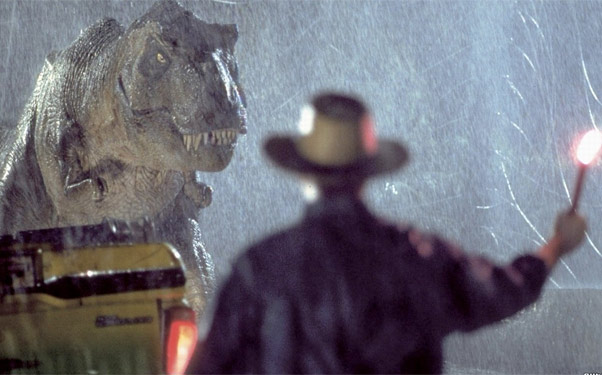 Posted by Brian Jacks on
It's hard to believe it's been nearly twenty years since Steven Spielberg's groundbreaking film "Jurassic Park" hit theaters. It was, at the time, a bonafide movie-going event that became one of the first major uses of CGI technology in Hollywood movies. Dinosaurs had long been a source of fascination throughout cinematic history — from 1918's "The Land that Time Forgot" to 1933's "King Kong" to 1966's Raquel Welch-starrer "One Million Years B.C." But never before had they been brought to life so realistically as in "Jurassic Park."
The film was a monumental blockbuster, earning nearly a billion dollars worldwide and ushering in the age of computer-generated creatures. Two sequels were subsequently spawned: 1997's "The Lost World" and 2001's lackluster "Jurassic Park III." The former would be the last of the series adapted from a Michael Crichton book and the end of Spielberg as director (the third film was helmed by Joe Johnston).
After the relative disappointment of the threequel, the franchise was put to bed (apart from merchandising and video games). But now, in a surprise announcement from San Diego Comic-Con, Steven Spielberg has stated that the long-gestating fourth film is not only in development, but could happen within the next few years.
On a panel to promote his "The Adventures of Tintin," the legendary filmmaker told the crowd that a story is quickly coming together. As reported by ComingSoon, Spielberg revealed that "We have a writer… Hopefully, we'll be making 'Jurassic Park 4' in the near future. In the next two or three years."
Several things remain unsaid, the most obvious being whether Spielberg would helm the movie himself. With several projects on his plate, would a fourth "Jurassic Park" film take priority, or would he be happy to sit in the producer's chair? Beyond that, what form would the actual storyline take? The third film ended with a group of pteranodons flying off in the distance, so presumably they could have wound up on the mainland. But you'd obviously need more than just flying dinos, so a trip back to the first island — now a preserve — could be likely.
I'd be surprised if this actually takes shape in the short timetable that Spielberg teased, but I guess we'll see. However it proceeds, we'll just have to hope that it maintains the spirit of the original Crichton novel.
Would you be interested in a "Jurassic Park 4"? Let us know below or on Facebook or Twitter.