"John Carter" trailer arrives online with big-budget Martian violence intact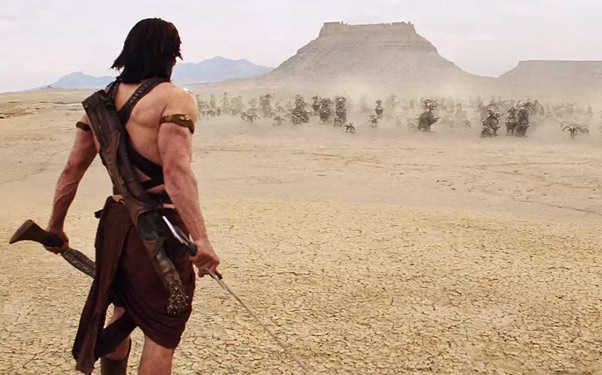 Posted by Rick Marshall on
The first trailer for "John Carter" arrived online today, offering the first footage from Walt Disney Pictures' live-action film based on Edgar Rice Burroughs' popular sci-fi/fantasy novels.
For anyone like myself, who preferred John Carter's bloody, sword-swinging brawls with aliens to Burroughs' other famous creation, Tarzan, the new trailer is a nice indication that Disney is playing it straight with their adaptation of the beloved series.
Burroughs' 11-volume "Barsoom" series followed the adventures of a Civil War veteran who's transported to Mars and thrust into the middle of a conflict between the various alien and humanoid races that populate the planet. "Friday Night Lights" actor Taylor Kitsch plays the title role, with Lynne Collins as the Red Martian princess Dejah Thoris. Willem Dafoe plays one of John Carter's allies, a green-skinned, multi-armed Martian warrior named Tars Tarkas, who we get a quick peek at in the trailer.
Equal parts fantasy epic and science-fiction saga, Burroughs' "Barsoom" novels were notable both for the content of the stories and their original cover art, which featured the work of iconic painter Frank Frazetta.
Of course, given Disney's stewardship of the upcoming film, it's no surprise that Dejah Thoris and the rest of the film's cast appears to be sporting significantly more clothing than Frazetta imagined in his cover art. Heck, the fact that Collins is wearing any clothing at all is a marked difference from many of the famous cover images, but given how good the trailer looks and how long it's taken to get to this point (an adaptation of the series has been in various stages of development since 1931), we'll let it slide.
Directed by longtime Pixar filmmaker Andrew Stanton, "John Carter" hits theaters in March 2012.
Are you excited to see what's in store for Disney's "John Carter"? Chime in below or on Facebook or Twitter.