Exclusive download and interview: John Butler Trio's "Revolution"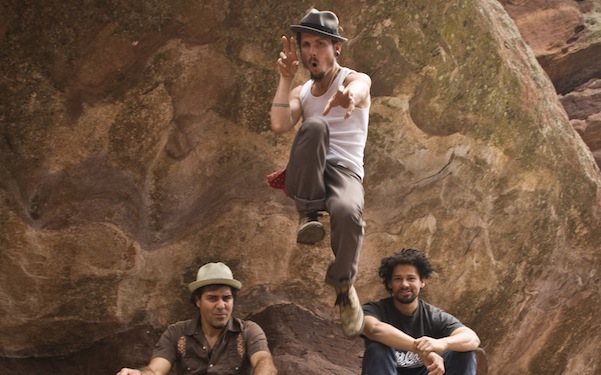 Posted by Grayson Currin on
Australian songwriter John Butler has five studio LPs and four live albums, which should tell you what you need to know about his aims: He thrives in the live environment, where his dialogue can engage, where his John Butler Trio can stretch and embolden his rock and where he can put a little more grit into anthems like "Revolution." Indeed, "Revolution" is a call to continual action by the concerned citizens of the world and an acknowledgement that change can come gradually, if we keep it as a consistent aim. Download "Revolution," taken from Butler's new Live at Red Rocks set, here.
Butler plays Terminal 5 in New York tonight and tomorrow night. He's on tour throughout September.
You've enjoyed a lot of international success, yet you've stayed in Australia. Why?
That's just where my heart is; my heart's in Australia. I've lived over east in Australia, and I spent a short time in New York. I spend a lot of time on the road– eight months sometimes on the road or a year. Australia is where my spirit feels the most at home. I'm not really interested in moving to New York, or London, or any other place to further my career. I leave home enough to further my career. I don't need to completely move away from home.
Every time you leave, what's the hardest part? What's the best thing about returning?
It's hard to leave home and leave my family, but luckily, we travel together a lot–me, my kids and my wife. I'm meeting them in five days in New York, and then we travel. I've been away for three weeks, but we travel for the next month and a half together. We have a family assistant; she's also a qualified teacher, so she teaches our children on the road. We try to stay tight in one way or another, physically or emotionally.
Leaving them doesn't get easier; it just gets harder. The best thing about coming home is about a week after I get home. I can settle. It takes about a week for everything to settle again. We're annoying each other, me and my wife, for about a week, and then it's all back to normal. The best thing about home is really just being with family–going out in the garden, making tree houses, lighting a fire in the back yard. It's the simple things that are often the best.
Do you write best at home or on the road?
I definitely get a lot of writing done when I'm at home, but I also get a lot of writing done when I'm on the road. Inspiration can come at any time. When I have enough time off, lots of songs will come, and when I'm off the road, they come quite rapidly. But they come regularly whether I'm on the road or off the road. Things get into my mind, and they're like little spirits that want to have a life. They choose to have a life through music.
Tell me about the song "Revolution." How old is it, and what inspired it?
It's a couple years old. In my country, like yours, often it's hard not to look around and feel like there's something happening on a global level. A lot of it's quite disturbing. It's hard not to look around and try to ask the questions, "Does anybody see the insanity that's going around at the moment? Is it just me, or has anyone else seen this craziness, this madness of destruction, whether through war or killing people through the economy?"
Countries are starving because of the World Trade Organization or the World Bank or from mining the hell out of the world. My state is completely infested with mining companies that are basically digging holes everywhere and are disenfranchising people in the process. When I look at all this stuff, it's quite overwhelming. As a citizen of the world, it doesn't feel natural, and it doesn't feel right.
The song is an observation of those things and trying to find some redemption in it. It's so overwhelming to be completely surrounded by that feeling all the time; I had to find some redemption and to take back the definition of revolution. The word has been completely manipulated by moneymakers, whether it's the Pepsi revolution or the digital revolution or the revolution in new underwear. Whatever it is, the revolution is completely impotent. So I had to find out what revolution meant to me.
Revolution looks like evolution with an "r" in front of it. Having to look around, and seeing what's happening on the planet, I try to focus on the good things and realize that revolution, although it's extremely slow and painful, is underway as we speak. It's not something that's going to come around one day; it's happening as we speak, but it's just happening very tediously.
I've been reading this book by another Australian thinker, Paul Gilding. It's called The Great Disruption: Why the Climate Crisis Will Bring On the End of Shopping and the Birth of a New World, and it's about the revolution the world will soon face. Is Australia on a vanguard of these sorts of politics, or the opposite?
I don't think Australia is on the vanguard of anything. We pollute more than America per capita; we're fucking shocking. I wouldn't even call myself an environmentalist, or a socialist, or political activist. I'm just a human being who sees the world and goes, ok, "What's the safest, cleanest, most sustainable and respectful way to go about this? And that's common sense." You want to mine some land and do it in a way that's environmentally sound, economically sound, that's–in a community sense, in a social sense, in a cultural sense–sound and sustainable, I don't have a problem with it. The problem is, at the moment, our countries are run by multinational companies that aren't a part of any country. They are completely beyond it–the roving, clandestine, fucking multinational companies. They are interested in how we can get our crap, and our junk, and our drugs that we're addicted to, in the form of oil and iron ore and whatever else, as quickly as possible without having to be responsible for it. It's cheaper; they'll cut any corners to do that.
I see that insanity, and as a human being, I have a problem with it because it doesn't make sense. It wasn't how I was brought up, and I don't think it's how most of us were brought up. We were brought up to respect people. We were brought up to clean up after ourselves. We were brought up to, if you break something, fix it; if it's going to run out really quickly, then replace it. Yet our leaders and these organizations don't go by those rules at all. There's a fundamental problem in how the system that we live in is running. It's not sustainable. Songs like "Revolution" and "One Way Road" are just me trying to make sense of this.
What do you hope songs like that accomplish? Are they part of a movement, or are they meant to inspire one?
I definitely think it's part of a movement, and it has the power to manipulate, or at least move, people emotionally. Great art does that, whether it's political or not. You can definitely move people through art, and this is the power of art. That's why advertisers, corporations and politicians have used music for a long time. It moves the masses. I think music can be part of a positive change on the planet, whether you sing about revolution or not.